Forecast Calls for More Rain Than We Can Handle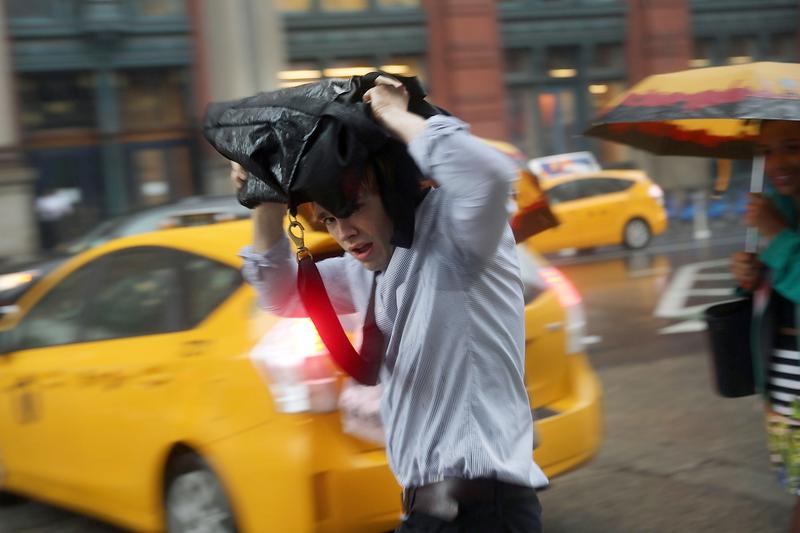 Scientists predict by 2050 that New York City will see an increase in average precipitation by 5 or 10 percent. (Currently, there is an average of about 46 inches a year.) But perhaps more worrying is the anticipated increase in the more than two-inch rain storms that occur in 48 hours. Those heavy rain storms, which happen about three times a year now, could hit the New York area four or five times a year. 
Last July, heavy rains caused flooding, which closed parts of the Cross Bronx-Expressway for three hours. In a city of concrete, there are not many places for fast-falling rain to go. And when it's not backing up in streets, it's mixing with raw sewage in the city's aging pipes and sent directly into our waterways. And that's with the city's current infrastructure.
In our NYC 2050 series, a partnership between WNYC and NBC 4 New York, we're tracing the effects of changing rain fall and what is being done to prepare for a rainier future.
Problems:
Fecal waste in the water
New York City's sewers were adapted over time to the city's population growth. That means that rather than building two pipes, one for storm water and one for waste water, they were combined early on and it's been hard to disentangle them. Right now, 67 percent of the sewer pipes combine storm water with sewage waste from apartments and buildings. On a day with no rain, this isn't a problem; the city's 14 waste water treatment plants can process the city's waste. But when it rains all bets are off. The city says these plants can process twice the regular dry weather flow. But in some parts of the city, researchers have a found less than a quarter inch of rain can cause some pipes to overflow—this means the pipes can't direct all the water to the treatment plants, so the untreated water is released into the city's waterways. The city has more than 400 overflows (CSOs) where untreated sewage and rain water can flow directly into the waterways and every year about 27 billion gallons of untreated water flows from these pipes into the city's harbors and creeks. This puts the city in violation of the Clean Water Act.
Flooded streets
The city sends people out to clear debris from storm drains before a big storm, but the drains often fill with trash, which prevents them from working properly and results in flooded streets. Heavier rain storms will make this worse. The city saw parts of the Cross Bronx Expressway closed for three hours last July. In 2007, a morning storm shut down much of the subway system, which was the third time that had happened in seven months.
Solutions:
The city has agreed to reduce the amount of untreated water flowing into the waterways through the creation of green and gray infrastructure. To comply with a federal mandate from the Environmental Protection Agency the city has agreed to reduce 1 inch of water from 10 percent of the city's impervious surfaces by 2030.
In the last 10 years the city has spent $10 billion on updating its gray infrastructure, meaning expanding the size of sewer pipes so they can carry more water, and building additional water holding tanks, which store the water during storms and then treat it, rather than just letting it flow directly into waterways.
The city estimates it would cost $50 billion to replace the entire sewer system (not feasible), so it is looking at green infrastructure as a way to reduce the burden on sewers, more cheaply. This means creating Greenstreets (trees and plants in road beds), right of way bioswales (same as Greenstreets but located in sidewalks), as well as using porous pavement and green roofs when possible.
The city has already installed about 250 bioswales and Greenstreets and hopes to have thousands more in the coming years. By 2015 it hopes to have awarded construction contracts worth $187 million to transform 1,181 acres. (The city is made up of 136,871 acres of impermeable surfaces.) The city has a matching grant program and is hoping new building owners and landlords will to participate. In total, the city hopes to spend $2.5 billion over 20 years on green infrastructure.  
Effectiveness:
According to Franco Montalto, a professor at Drexel University, who works with the city on its Greenstreets project, if placed in the right location, with curb cuts to allow water in, using sturdy plants that can withstand long droughts and long periods of heavy rain, and with add several layers of engineered soil, bioswales can absorb far more than an inch of rain water (which is what the city hopes they can absorb).
At a Greenstreets in Cambria Heights, Queens, Montalto outfitted the plot with sensitive measuring devices. He found during Sandy and Irene, this plot of land absorbed all the rain water that flowed in, more than seven inches, and didn't dump any of it into the streets or sewers.
But Jim Rice, a professor of Environmental Science at Queens College, who wrote a report analyzing the city's green infrastructure, says the city shouldn't rely so heavily on individuals creating and maintaining these bioswales. He says locations most be chosen carefully to be most effective. In general he supports gray and green infrastructure projects, but doubts whether the current efforts have been enough to reduce CSO waste from entering city waterways.