Transportation Nation
NY State Lands $1.6 Billion Loan For New Tappan Zee Bridge ... But Who Will Pay It Back?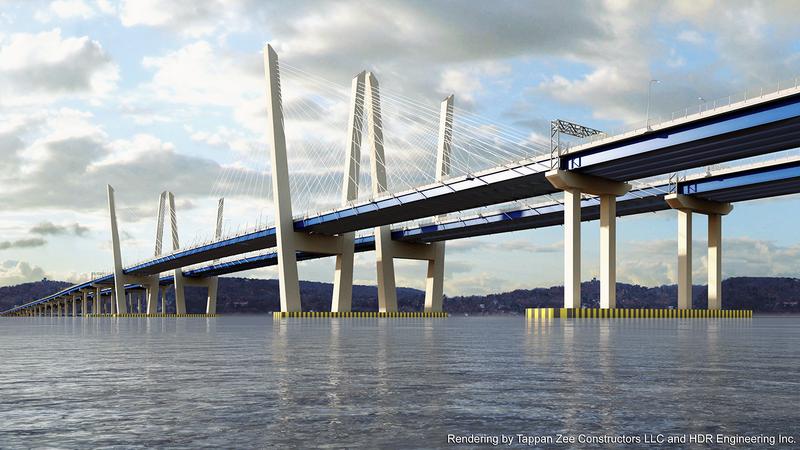 Federal dollars flowed today toward building a new Tappan Zee Bridge. But much of that money may ultimately be paid back by drivers.
The U.S. Department of Transportation has agreed to offer a low-cost loan of $1.6 billion to New York State for construction of a new span just north of the existing Tappan Zee Bridge. The new structure is scheduled to open by mid 2018.

Earlier this year, the New York State Thruway Authority walked away from a plan to raise tolls on trucks to help pay for the project. Governor Andrew Cuomo was asked today whether that meant tolls would rise substantially on either the new bridge or on roads throughout the thruway system. Or both.
"We have a group that is assembled that is going to be working on just this issue and I don't want to pre-empt them either," Cuomo said in a Thursday conference call with reporters. The governor was referring to a toll task force whose job it will be to figure out which drivers will be paying more to get around the state -- and how much more.
The state estimates the total price tag for a new Tappan Zee Bridge will come to $4 billion, all of it borrowed money.
That worries transportation advocates, including the Tri-State Transportation Campaign. The group said in a statement that the $1.6 billion loan "is just one piece of a complex, unfinished financial puzzle. The New York State Thruway Authority has still not released a more detailed financial plan forecasting vehicular and truck tolls it will charge to cross the 3.1-mile span despite having indicated the financial plan would be released by the end of October. Taxpayers are still navigating murky waters with speculations as to how much a bridge toll would cost."
The new bridge will feature a futuristic design, and space for express buses. But it will not include trains or light rail. The New York State Thruway decided that adding mass transit to the bridge would be too costly. The bridge will also be without a bike lane.
The old bridge won't host those options either; it will be torn down by 2018.