New York Leaders Finding Their Voice in a Trump World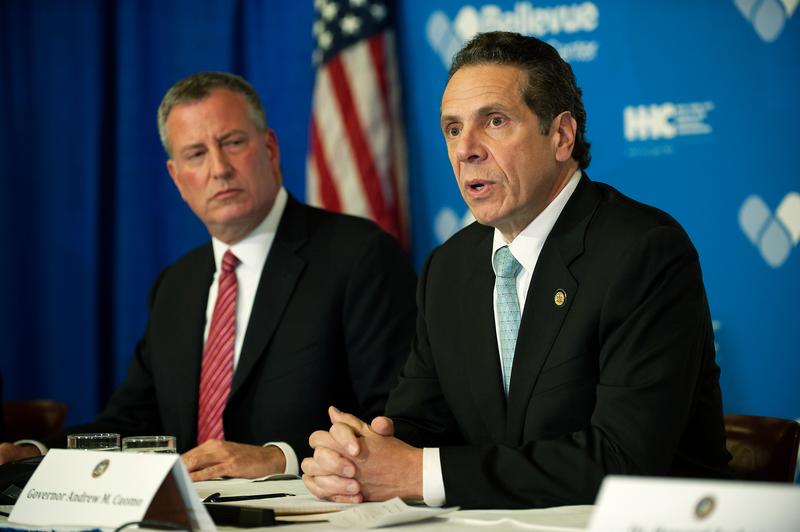 Republican Donald Trump's election as president dealt a blow to New York's top Democrats. As Governor Andrew Cuomo and Mayor Bill de Blasio offered their first public comments Wednesday about the results, the leaders sought to position themselves in a new political reality.
In a call to NY1 News, Cuomo called Wednesday an emotional day. He said the election results prove there's deep anger on the right AND the left.
"I think part of the frustration is the incompetence of government, right? The federal government's been gridlocked. You don't see any progress from government," said Cuomo. "We have to remember that government is about action and results."
The statement is a reflection of Cuomo's own centrist governing philosophy. It's one that requires him to work with the Republican controlled State Senate. And now, with President-elect Trump, who Cuomo said he's already spoken with about infrastructure projects in New York.
Speaking from City Hall, the Mayor de Blasio's first post-election comments Wednesday stressed so-called New York values — a not-so-subtle rejection of Trump's anti-immigrant, anti-Muslim rhetoric.
"We stand behind lady liberty with open arms to welcome immigrants and refugees. We always have, and we always will," said de Blasio.
The mayor was criticized during the presidential campaign for delaying his endorsement of Hillary Clinton and trying to push the Democratic party to the left.
As he faces his own campaign for re-election in 2017, Fordham University professor Christina Greer said de Blasio is well-positioned to harness that lingering energy inspired by Senator Bernie Sanders, but with one catch.
"On the one hand it looks great for him because he can be the progressive champion. On the other hand, Trump has made more conservative voters come out of the shadows," said Greer.
Even though the country has moved to the right, Chris Coffey with Tusk Strategies said New Yorkers care less about their mayor's politics than his management skills. He said people want a mayor who will "roll up his sleeves and show up to work on time."
Coffey said people want to hear, "a path for more jobs, more affordable housing, keeping crime down, being open to charter schools. And I don't think that has to come from the left or from the right."
His firm is behind NYC Deserves Better, a campaign seeking a mayor who's less ideologically-driven and more results-oriented.
Coffey expects Trump's election will move Governor Cuomo more to the middle and make him a contender for president in 2020.