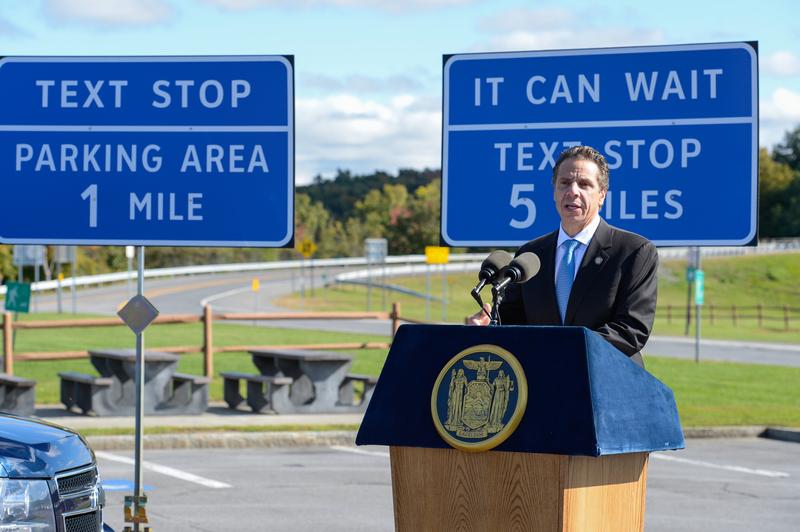 Driving on the New York State Thruway? Tempted to look at your cell phone? The governor is hoping new signage will encourage you to defer that urge for a few miles.
As part of the state's efforts to combat distracted driving, nearly 300 new signs are going up along New York roadways, highlighting 91 'Texting Zone' locations --  highway rest stops and other parking facilities.
"The signs will say 'it can wait,'" said Cuomo. "Because that's the whole message: it can wait."
The governor says one in five traffic collisions today can be attributed to distracted driving, which he says causes more road fatalities than drunk driving.
"The numbers are getting worse, not better," Cuomo said. "We have three times more distracted driving incidents than we did seven years ago."
Cuomo blamed the increase on young drivers raised on cell phones. "They are attached -- affixed -- to the electronic device," he said. "They start driving, they don't really have the skill set that you get with wisdom and experience behind the wheel, and it's a dangerous combination."
New York State Police issued 21,500 tickets for distracted driving this summer compared with 5,200 in the same period last year.  
More signs are also going up to inform motorists of new penalties for texting and driving: five points on their driver's license and a $150 fine.
This is just the is the latest salvo in the state's crackdown on distracted driving. Earlier this summer, the governor signed legislation toughening distracted driving penalties for new drivers. And New York State troopers have begun using unmarked SUVs on built on higher chassis to catch violators.