New York Attorney General Urges Supporters to "Take Advantage of The Moment" on Voting Reform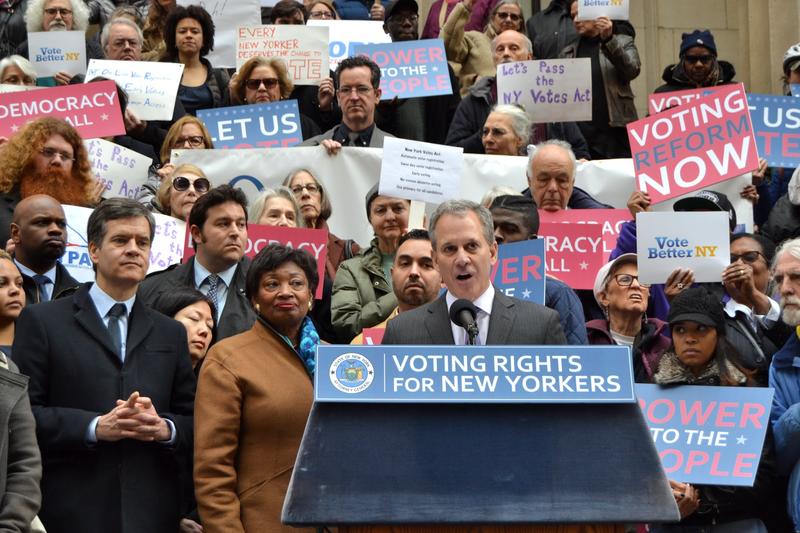 New York Attorney General Eric Schneiderman is seeking to capitalize on the simmering anger among voters over what he called the state's "embarrassingly outdated" voting system.
Schneiderman's solution: the NY Votes Act, a package of legislative changes that includes automatic voter registration, same-day voter registration and early voting. The legislation is an outgrowth of his office's investigation into Boards of Elections statewide, including a report issued after his office received a record number of calls to its voter hotline about last year's presidential primary.
"People are upset, people are angry, people are demanding change," Schneiderman said Wednesday, standing outside Federal Hall in lower Manhattan. Invoking the history of the founding fathers — they first introduced the Bill of Rights at the same spot — he said it's time for activists and legislators committed to voting reform "to take advantage of the moment."
While Democratic lawmakers have routinely introduced bills to change election laws, Senate Republicans have routinely blocked efforts at reform.
"Early voting is a bill I've carried for years, but I can't get it passed by the Republican Senate," said Senate Democratic Leader Andrea Stewart-Cousins, who joined the attorney general to offer her support for the act.
But Schneiderman said his legislation has bipartisan support.
While no Republicans were on hand Wednesday, several members of the Senate's Independent Democratic Conference, who have a power-sharing arrangement with Republicans, offered statements of support. Newly-minted caucus member Sen. Jose Peralta was there in person.
Gov. Andrew Cuomo's office also signaled support.
"These are many of the same reforms the governor has long advanced and fought to pass into law," said Dani Lever, a spokeswoman for Cuomo. "We welcome the additional support in our collective efforts to enact our democracy agenda and once and for all break down artificial barriers that discourage New Yorkers from taking part in the process." 
Legislative changes aren't the only way Schneiderman is trying to shore up New York's elections. Last month, he joined a lawsuit against the New York City Board of Elections for illegally purging 200,000 voters from the rolls.