Nursing Home Owner in de Blasio Investigations Flouted State Rules that Protect Patients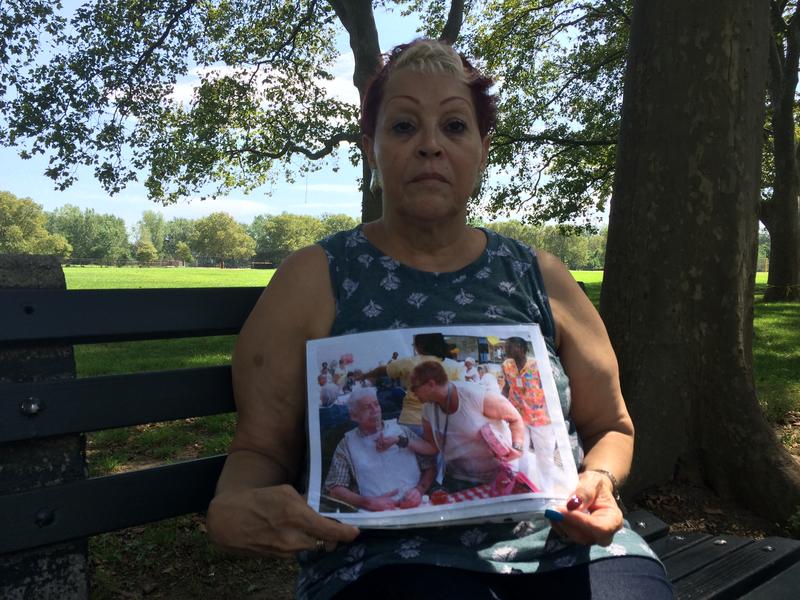 Rafaela Rodriguez moved to Canarsie, Brooklyn nearly a decade ago because her common-law husband liked it out there — especially the airplanes that would land and takeoff from neaerby JFK airport. 
"He'd sit down and watch," she said. "Oh he used to love that." 
But her husband, Rafael, wouldn't enjoy the planes for long. The senior citizen with neatly trimmed white hair was acting strangely around the house and after a liver transplant, dementia set in. Rafael Santiago would never return home again. Instead he would end up at CABS Nursing Home on Nostrand Avenue in Bedford-Stuyvesant, Brooklyn.  
"He was eight years in there," said Rodriguez, who became a fixture at the nursing home herself, and even set up her own small beauty salon where she cut patients' hair.
"I kept it beautiful," she said as she clutched photos — a Caribbean festival in 2011 and the Christmas boogaloo party the following year. She said one nurse knew her husband so well she could tell what he needed by the expression on his face.
"That nursing home was like a family," she said. 
But that changed shortly after the Allure Group bought the facility in June of 2015.
Rodriguez said family members noticed patients were being transferred out and they began to worry. In October, they held a meeting and demanded an explanation. According to minutes from the meeting, an administrator said patients had been relocated because they weren't suited for the facility, and dismissed rumors the nursing home was closing. But by then a contractor had already applied for a permit to demolish CABS and replace it with a seven-story apartment building, records from the Department of Buildings show. Rodriguez said the pressure to leave continued.
"The social workers, they start to work and call all the nursing homes to [see] where they can admit this person the other person," Rodriguez said.  "You can see the ambulettes taking the patients to this nursing [home], the other nursing home, to the other nursing home. It was like a nightmare."
Nursing home operators are supposed to give the state Department of Health 90 days notice and submit a detailed plan on how patients will be transferred. The plan includes a roster of patients, a process for relocating them and notification to families of possible alternatives. The agency has to approve the plan before anyone gets moved out.
But, according to a three-month investigation by WNYC, that didn't happen at CABS — or a second location owned by the Allure Group in Manhattan that was the subject of multiple investigations after the owner sold it to luxury housing developers.
Relocating a nursing-home patient suffering from dementia or other serious illness is a delicate matter and it takes time, advocates say. Richard Mollot, executive director of the Long Term Care Community Coalition, an advocacy organization, said the law requires that any transfer be in the best interest of the patient.
"You have a right to at least a 30 day notice, an appeals process and protections in place to make sure that you are able to select a nursing home that can meet your needs and that is in an appropriate setting geographically," he said. "Or otherwise go to another setting if you would be better off. It is really important that those protections are carried out."
Despite reservations, Rodriguez said Rafael and several others were transferred to Concord Nursing Home around November. According to the state Department of Health, a closure plan for CABS was not approved until February. Rodriguez and other family members said they were never given formal notice the nursing home was closing or notified of their right to appeal any transfer.  And at Concord, Rafael began to get sick. Rodriguez said one weekend the nursing home called to say her husband was in a coma after his blood sugar level reached a dangerous 700. She said up until then, the highest it ever got was around 250. After that, he became despondent. Next, he caught pneumonia, and she prayed by his bedside for days.
"I talked to him. I prayed. I go back Sunday. I do the same thing," she said. "I go Monday and I had the feeling that he was going to pass, and on Monday I pray and on Tuesday at 4:26 (a.m.) they called me that he passed away. And that was the end of everything."
The state Department of Health wouldn't comment on the death, and neither would Allure or Concord, which cited privacy laws. 
Rafael's death was classified as normal and was not referred to the city's medical examiner for review. But Rodriguez believes that if her husband had remained in the place he called home for eight years, he would still be alive.
"Because he was still strong," she said. "He died like it was not his time yet."
Mollot said that transfers in general can be problematic because they can cause an interruption of consistent care.  
"Sometimes their basic care plans get messed up," he said. "It's just things that happen if we are not extremely careful."
While the Allure Group was closing CABS, it was also closing another nursing home at the center of a controversial real estate deal. Rivington House had been used for decades as a nursing home for AIDS patients until the fall of 2014, when Allure decided to buy the property. Less than a year later, the company entered into a contract to sell the site to luxury housing developers for $116 million — more than four times the purchase price. Since then, the de Blasio Administration has been investigated twice for lifting deed restrictions that allowed the sale to happen.
Allure has said it warned a city official the building would be sold off if the cost to lift restrictions was too high. But city officials have said Allure made it appear the nursing home would remain open.  
The State Department of Health has said the same.  According to the agency, in the fall of 2014, Allure applied to convert the facility into a nursing home for a broader geriatric population instead of just AIDS patients. The conversion was approved by health officials.
"Based on the materials submitted by the owner in connection with its conversion application, the Department had every expectation that utilization would increase and the facility would continue to operate," a spokesman wrote in an email to WNYC.
But a year later, when state health department workers went to Rivington House for a routine inspection, they were surprised to find it had closed, according to Richard Danford, the long-term care ombudsman for New York City. He said they called him from the site.
"It was a short conversation. They said, 'We are at Rivington House to do a site review and there are no residents here,' and that was pretty much it," Danford told WNYC. "They were quite surprised, as were we."
Danford works for a non-profit and any time a nursing home closes, he gets notified and acts as an advocate for patients and their families. But this time, all the patients were gone before there was a chance to meet with them.  Danford said that when proper procedures are not followed, there is no way of knowing who was living there or where they went.
"You have aged people, people with serious disabilities. The process for relocating for that population is very complicated and they do have rights," Danford said. 
WNYC was able to track down one patient discharged from Rivington House at the time Allure was closing it down. 
Sal Siggia said he stayed at Rivington House last fall.  At 6-foot-3, he weighs 116 lbs. He's had AIDS for 25 years, but his real problem is the radiation he received for throat cancer.  It damaged his esophagus and he can't swallow food or drink without it getting into his lungs.
"My prognosis is not really great. It's pneumonia, pneumonia, pneumonia — dead, at some point," Siggia said.
He was at the nursing home recovering from one of those bouts of pneumonia, and he speaks highly of staff who would bath and shave him while he lay in bed too weak to get up. 
"I was sick as a dog. I really was," he said.
But then Siggia was able to start walking again and he wanted to go home. So he was discharged to his fifth-floor East Village walk-up.
Leaving would prove difficult. This dangerously thin man would now be responsible for feeding himself through a tube in his stomach even though he wasn't sure how to use the machine that dispensed his nutrition.  The facility lent him a mobile oxygen tank but it was too heavy to carry upstairs, so a friend did it. Siggia was determined to make it work.
"When I faced my steps I just think, 'Go and don't think about it,' " he said. "And there were times when I was literally crawling up the last few steps because I just didn't have the strength anymore."
Eventually, he would make it to the top, catch his breath, compose himself, then think, 'I made it. I got up here.'
"Whether it was a good idea or not, I had no other options of what to do," he said.
But there were other options. Two former employees who spoke to WNYC on the condition that they remain anonymous said Siggia was discharged prematurely and could've been given more time to get stronger. Ultimately, Siggia said Visiting Nurse Services deemed his apartment unsafe because of the stairs, and also because his bathtub was in the kitchen and his bed was elevated off the floor. Today, he lives in an elevator building and has nurses and therapists to care for him at home. It took him nine months to put everything in place.  Since leaving Rivington House, Siggia has suffered five more bouts of pneumonia, been hospitalized and lost 10 pounds.
"In comparison, I was doing very well (at Rivington House) — even though I was a wreck when I left there," he said.
Rivington House closed for good one month after Siggia left. And after the state Health Department found it empty, the Allure Group was allowed to submit a closure plan anyway. Health officials then approved it without fines or penalties.
"I have never heard of being able to file a closure plan retroactively,"  said Susan Dooha, director of the Center for Independence of the Disabled in New York, where Danford, the ombudsman, works. She's been advocating for seniors for 14 years.
"In the event that facilities would, I don't know, perhaps prefer to be in the real estate business, then I think there ought to be real consequences for not taking care and putting residents first if that's the case," she said.
Danford was also surprised by the state's actions.
"It was highly unusual," he said. "Let me put it that way. I'd never run into anything like that and our concern is always for the residents."
The state health department said it could not answer questions about why closure plans were approved at both Rivington House and CABS after the fact because the matter is under investigation.  
Andrew Levander, an attorney for Allure, said company representatives discussed the anticipated closing of Rivington House with the state Health Department as early as June of 2015 and discussions continued through the fall. Levander also said in a written statement that, "Privacy laws prevent us from commenting on any specific patients, their discharge and follow-up after discharge, other than to confirm that Allure at all times, complied with applicable rules, regulations and procedures concerning patient care."
Construction has been halted at both Rivington House and CABS, and both buildings now sit empty.