'Numbskull' Decision Stalls Hundreds of New Jersey Transportation Projects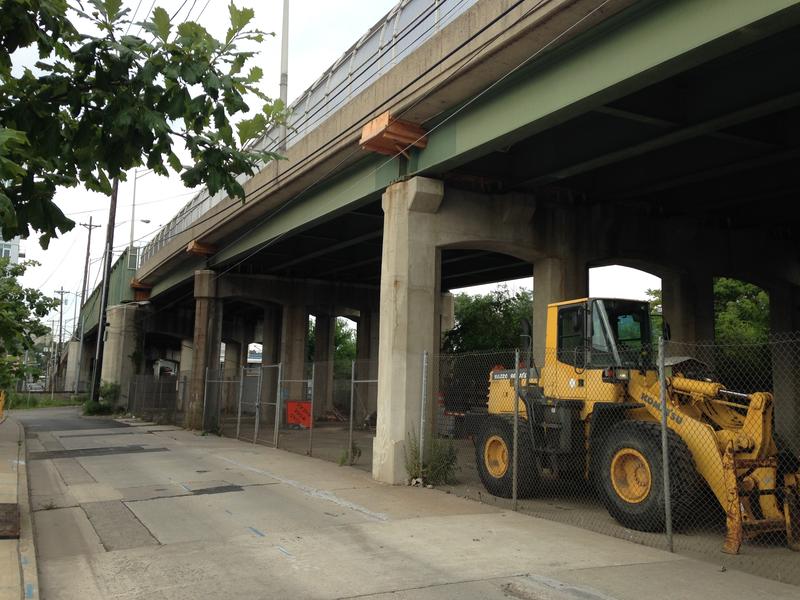 The Park Avenue Bridge is one of just two vital roads that connect the New Jersey city of Hoboken with the Lincoln Tunnel to the north. Work to repair the bridge's crumbling concrete had just gotten underway when Gov. Chris Christie ordered the shutdown of all "non-essential" state-funded transportation projects. Metal plates were placed over the holes that workers had already drilled, but last Thursday, inspectors found that those plates were failing. A repair crew was immediately called in to fix the hazardous conditions.  
"That makes me nervous," Jayson Kolb, a resident who lives nearby and walks his dog over the bridge regularly, said one recent afternoon. Kolb said the situation reminded him of the 2007 collapse of the Mississippi River bridge in Minneapolis, Minnesota, which killed 13 and injured 145. 
To be clear, the Park Avenue bridge isn't falling down, but it is in very bad shape — as are hundreds of other New Jersey construction sites that have been sitting idle for more than a month after politicians failed to agree on how to replenish the state's nearly bankrupt transportation trust fund. (The deadlock doesn't affect federally funded work on interstates and elsewhere.) 
"All of us are affected by the numbskull decision to make us stop all of these projects at once," says Tom DeGise, the executive for Hudson County, where there are 21 projects affected by the work freeze. 
One of those projects is an overpass that would let cars pass over a set of train tracks in the township of North Bergen. Drivers have waited years for the bridge, and work had finally begun when they had to shut it down. The unfinished bridge now sits over half of the tracks, an incomplete arch just stuck in the air.
"They finally gave us a completion date, which would have been January," North Bergen Mayor Nicholas Sacco said of the project. "And now the date is gone because the work stopped." Sacco, who is also a state senator, estimated that drivers are forced to wait for up to 30 minutes when a train comes.
State leaders have agreed that to fund these projects, they need to raise the state's gas tax, which is one of the lowest in the country. But they disagree over how to ease the pain of a gas-tax increase on voters with other tax cuts.
Christie and the state Assembly agreed to a bill that would have lowered the state's sales tax, but Senate Democrats rejected the bill, which they said would blow a $1.6 billion hole in the state budget. Senate Democrats have instead put forth a package of tax cuts that they say costs far less than Christie's preferred bill. But Christie says that bill is dead on arrival.
According to Montclair State University political science and law professor Brigid Callahan-Harrison, the competing tax plans are intimately tied to the political aspirations of Senate President Steve Sweeney and Christie, who were once unlikely allies.
Harrison says that Christie doesn't want to be seen raising taxes as he positions himself for a federal appointment if Republican Presidential Candidate Donald Trump wins the election in November. Sweeney, on the other hand, is likely to run for governor of New Jersey in 2017, and doesn't want to be seen as cutting too much revenue out of the state budget.
"Now that their ambitions are kind of divided, what we've seen is that they often times tend to be opponents in many battles," she says.
Despite the political drama surrounding the transportation trust fund debacle, though, Harrison says the most important effect of the deadlock has been on workers and businesses. One of those workers is 66-year-old George Schneckenberg of Woodridge. He was working as a foreman on a pipe crew in Toms River when he received a pink slip.
"I was just like, 'Oh Christ. How am I going to explain this to my wife?'" he said in a recent interview. 
He says summer is peak roadwork season, when he and other workers toil day and night to finish projects while the weather permits, collecting overtime in order to save money for the much slower winter months. But he's eating into that stash already.
"If we don't get back to work soon, it's gong to be a real long, lean winter," he says. "I don't know what our politicians are doing — how they can just sit home and collect their money for a month while the rest of us are sitting home, not collecting anything."