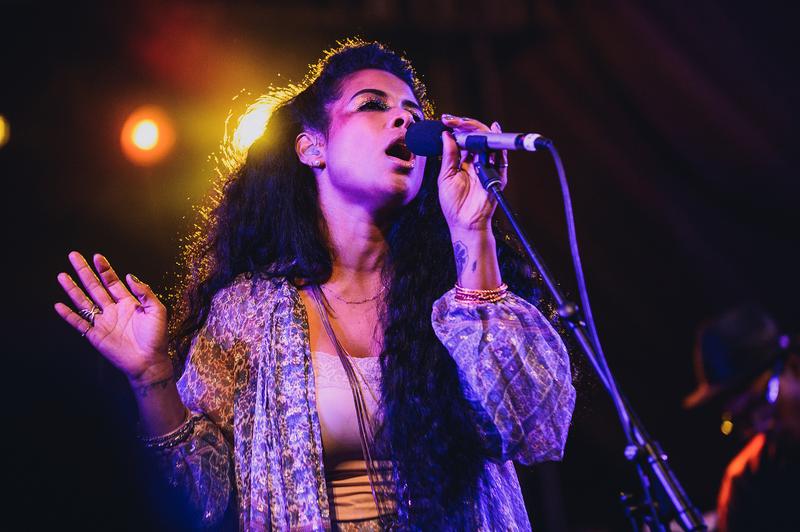 South By Southwest is now upon us, which means countless music fans, members of the music industry and 1000's of bands are about to descend upon Austin, Texas for the annual conference, festival, and insane street party. But if you're not making the trip, we've got you covered, with select video performances filmed live from NPR Music's annual showcase at Stubb's.
It was an impressive, genre-blending lineup of fan favorite bands -- like Damon Albarn, the leader of Blur and Gorillaz, and St. Vincent -- and new artists -- like Eagulls and Syracuse punk band Perfect Pussy.
The first is Kelis, the R&B star behind hits "Milkshake" and "Bossy," who made her first American appearance in more than three years. Kelis knocked out fans with a stunning opener of Nina Simone's "Feeling Good," which she wove throughout her incredible SXSW set that showcased new songs from her upcoming album, Food, in addition to a few classic hits. Watch her perform the song "Breakfast":
Next, we have some retro-leaning punk from Leeds-based group, Eagulls.
And, the magnetic and fierce hardcore punk of Syracuse band Perfect Pussy.
So make yourself some tacos, plunk yourself down in your favorite comfy chair, crack open a Shiner and watch some excellent music -- without the hassle of standing in line, fighting over wristbands or navigating through the throngs of zombified fans who clog the streets.