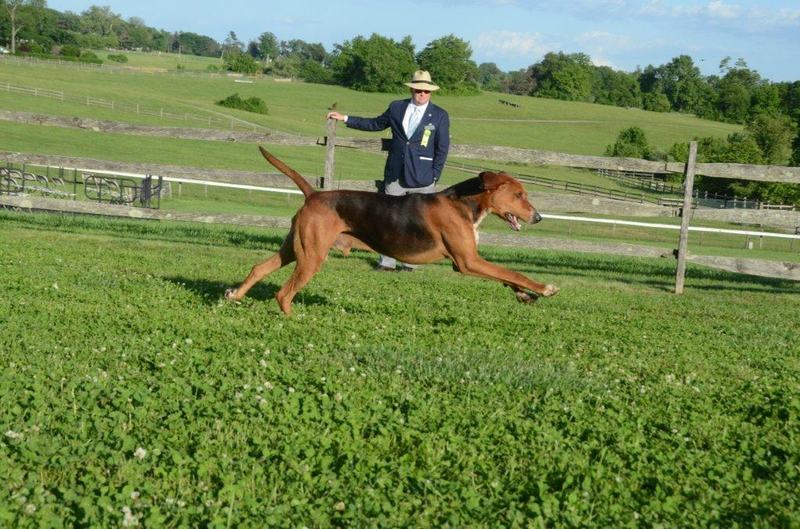 There is no sound quite like eight hundred hounds waking up to a crisp spring morning:
They could be heard (no doubt all across the state of Pennsylvania) at the Bryn Mawr Hound Show, which celebrated its hundredth anniversary this May.   Hound shows test the ancient art of hunting game in packs.  At the Bryn Mawr show, which has been held at its current location, the Radnor Hunt Club in Malvern, Pennsylvania, since 1956, hunt clubs from all over the East Coast come to compete.  This year, 53 packs were represented.
Once, only the nobility could hunt packs of hounds, but now the sport is enjoyed by people from all walks of life, united in their admiration of the intelligence, persistence, and physical beauty of hunting dogs.  While many different breeds of dogs hunt, hound shows typically celebrate the core scent hounds—fox hounds, beagles, and bassets—who are typically hunted in packs of anywhere from 10-60 dogs.
These are managed by a "huntsman" (who can be a woman!).  His or her job is to keep the pack focused, encourage hounds to hunt effectively, and keep them out of trouble (trouble being things like traffic, or the wrong quarry).  One aid for this job is the huntsman's horn, which is used to communicate to both the pack, the staff (hunt members helping to keep the pack in order) and the "field" (spectators). 
So to set the stage, the Bryn Mawr show begins with a Friday night cocktail party enlivened by a horn-blowing competition.   Both amateurs and professionals (salaried hunt staff) compete. 
The judges (this year Jeannie Thomas, Michael Ledyard, and Jake Carle) sat with their backs to the performers, who played a sequence of traditional calls on their horns.  
Listen here as the judges explain the function of the calls, and hear examples from one of the competitors.  And imagine these bright sounds ringing out over the lush Pennsylvania countryside, amidst the guests in full spring regalia:
This year's amateur champion was Richard Davis of the West Dublin Foot Beagles, and the professional winner was John Tabachka of the Sewickley Hunt (a fox-hunting pack). 
John Tabachka, winner of the professional division of the 2014 Bryn Mawr Hound Show horn-blowing competition.  Photo: Liz Callar
Tabachka says he used to blow his dad's hunting horn as a child, and then refined his technique with a year of trumpet lessons when he was in grade school.  The rest came with experience (he's in his fourth season with the Sewickley).   "I've always thought that a horn blowing competition should try to mimic a day's hunting. Although it is very difficult to recreate the excitement that comes with hound in full cry!"  (John does a full demonstration of hunting calls on YouTube).
On Saturday morning, the actual hound competition begins, with individual hounds in various breed rings being assessed by two judges.  Hound shows are surprisingly casual, compared to something like the Westminster Kennel Club show, with its elaborately coiffed show dogs holding balletic poses.  These hounds are working dogs, and they are judged primarily on their build and movement.  So they are shown "off lead," and encouraged to run back and forth in search of biscuits so the judges can see their range of motion.  (Real hunting is rarely on level ground, and hounds who aren't built well will wear out.)
Another important test of a pack hound is the ability to pass good qualities on to the next generation, so there are classes for brood bitches (sorry feminists, but in this world, motherhood is your job) and stallion hounds and their young, called "get."  Full disclosure: This year I was at Bryn Mawr as an exhibitor with the Sandanona Harehounds, the pack to which I belong in upstate New York.  Our pack has both beagles and bassets, and I was assigned to help our Master and Huntsman Elizabeth Park in the basset ring, where our stallion hound Bradley was second in his class.
Elizabeth Park, Master of the Sandanona Harehounds, and the author, showing Sandanona's bassets.  Photo: Pat Ike
Other classes include those for young hounds who haven't hunted yet ("unentered"); those who have ("entered") and veterans—it's always touching to see these great old boys and girls still eager to go despite their grey muzzles and battle scars.
Each cycle of breed classes ends with a championship, so that at the end of the day the top foxhounds, beagles, and basset compete against each other for Best in Show.  This year's overall winner was a Penn-Marydel (an American breed of foxhound), Golden's Bridge Phoenix.
But brilliant as any single hound might be, hunting is a pack sport.  The day ends with pack classes held in a picturesque open field where the Radnor Hunt Club holds steeplechases.  Each hunt is asked "present" its pack to the judges, and to execute a simple manoeuvre designed to demonstrate the hounds' appearance, cohesion, and obedience.  The results vary from formations reminiscent of the New York City Ballet, to those more like Monty Python's Ministry of Silly Walks, but it's always a moment of pride.
Elizabeth Park, Master and huntsman of the Sandanona Harehounds, and whip Dorothy Mayo, with the Sandanona beagle pack.
Photo: Pat Ike
By this time, everyone is pleasantly exhausted and ready to let dusk settle over a hundred-year-old show, celebrating a thousand-year-old sport.  As one slightly bibulous participant put it, "Tally Ho forever."
Tally ho!  Photo:  Sarah Montague
Never too young.  Junior handlers at the Bryn Mawr Hound Show.  Photo:  Liz Callar.
Hare hardware.  Photo: Sarah Montague
End of day.  Snoozing foxhounds.  Photo: Sarah Montague