North Jersey Republican Is a Top Target for Democrats Wanting to Reclaim US House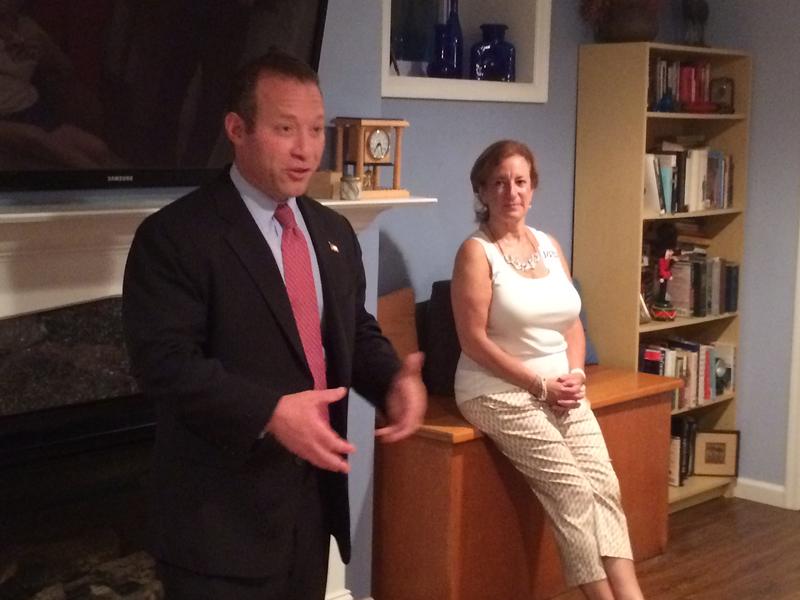 The race for New Jersey's 5th Congressional District as hot as the basement in Ellen Taner's Fair Lawn home on the Passaic River. The air-conditioning couldn't keep up one August evening as guests crowded in.
About three dozen friends and neighbors were there too meet Josh Gottheimer, a Democrat and first-time candidate. He's facing off against the incumbent, Rep. Scott Garret, a Republican.
Gottheimer, 40, is a former speechwriter for Bill Clinton and has worked for the Federal Communications Commission, Ford and Microsoft. 
"There have been times when I have been really excited about candidates," Taner told the crowd in her basement as she introduced him. "But this candidate really gets me excited." 
That's because this race may be the best chance Democrats have to beat Garrett, who's been elected seven times by double digits. The 5th District stretches from parts of Teaneck and Hackensack in the east, to Hackettstown in Warren County in the west, and includes most of Sussex County and northern Passaic County. It reliably votes Republican. But it's a presidential year, when voter turnout is higher. And Hillary Clinton is comfortably ahead of Donald Trump in statewide polls. A Democrat has a shot.
Plus, Garrett's own hard-line leanings have hurt his fundraising. He's one of the most conservative members in the House and part of the Freedom Caucus, which pushed out former Speaker John Boehner. 
Garrett is known for his contrarian votes, irritating Democrats by voting against bills that other New Jersey Republicans support. He voted against a bill to help 9/11 first responders with their medical care — even though he co-sponsored it.
Garrett explained to WNYC in 2015 why he voted against a transportation bill that included $8.4 billion for New Jersey. "This bill says we're going to have a program for a half a dozen years, but it only funds it – comes up with the money – for half of that," Garrett said.
Then Politico reported last year that Garrett refused to pay dues to the Republican Party if the money was used to support gay candidates. "Then he stunned the room with this explanation: He had not supported the NRCC in the past, he said, because it actively recruited gay candidates and supported homosexuals in primaries," the website reported.
Garrett, who turned down requests for an interview, has called the Politico story a "fabrication."
But ever since, Democrats, students and gay rights groups have pressured donors to stop giving to Garrett, and they've been successful.
Garrett serves on the House Financial Services Committee, and he's filled his campaign account with donations from banks, insurers and investment firms. He outspent his Democratic opponent by $1 million in each of the past two elections. But campaign finance records show Garrett has raised just two-thirds of what he raised at this point in his last election from banking, insurance and other political action committees.
Many banking and finance companies seek out gay, lesbian, bisexual and transgender customers. Goldman Sachs chairman and CEO Lloyd Blankfein even appeared in an ad campaign for gay marriage.
"I support marriage equality," Blankfein said in the ad. "America's corporations learned long ago that equality is just good business."
Goldman Sachs has stopped giving to Garrett. Companies such as PSEG, Capital One and BBVA Compass also confirmed to WNYC that they would no longer donate to Garrett – though they all declined to explain why. Fidelity gave this year, but company officials say they haven't decided whether they will give to Garrett again.
Federal records show that Gottheimer has raised $1.5 million more than Garrett, nearly $3 million so far this cycle. Garrett still has money in his account from past elections, so both candidates have around  $2.5 million dollars to spend.
Garrett's campaign commercials have responded to this pressure by accusing his opponent of misrepresentations. "Why are Josh Gottheimer and his D.C. special interests attacking Scott Garrett with lies?" a narrator asks in Garrett's ad.
Garrett says his disagreement isnt with gay candidates, but with Republicans who support gay marriage. And attorney Matt Rooney, a conservative blogger on state politics, says that position won't cost him support.
"If gay marriage is one of your top issues, you're not probably voting for Scott Garrett anyway," Rooney said.
And currently, even Democratic polls show Garrett holding a small lead in the race.
Rooney says no New Jersey Republican has an easy path to victory, but there is still a numbers advantage in the 5th District. While Mitt Romney lost New Jersey by 17 points in 2012, Garrett won easily. "He's reasonable and he speaks with a tremendous depth of knowledge on the issues, he doesn't comport with the caricature they try to paint," Rooney said.
The Democrats gathered in Ellen Taner's basement used words like "disgrace" and "embarrassment" to describe Garrett. But they wondered whether newcomer Gottheimer was the answer.
Gottheimer spoke and answered questions for about an hour. He outlined a plan to tax businesses that move profits overseas, talked about the need to strengthen national security, and tried to convince progressive voters they could be comfortable voting for him.
Bob Yanofsky listened to Gottheimer's pitch. As he headed back to his car, he said Gottheimer spent too much time telling voters why they shouldn't vote for Garrett.
"I want to know what you're bringing to the table," he said. "Don't tell me what the other person hasn't done or can't do. That doesn't make you any more qualified than the person you're running against."
Gottheimer's first television ad praises Jersey values – and takes a swipe at what he calls Garrett's "bigotry." It hit the air in August.