Non Stop Flight New York to Puerto Rico
Monday, March 26, 1951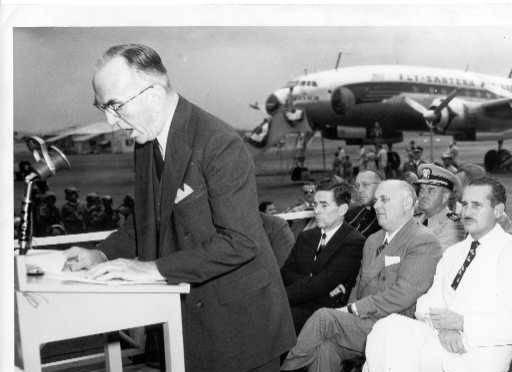 (Auburn University. Special Collections and Archives)
The sounds of a city and a nation are captured through nearly a century of transformations, tribulations, and triumphs.

More
This episode is from the WNYC archives. It may contain language which is no longer politically or socially appropriate.
On location at San Juan, Puerto Rico, airport. Primary speaker is Eastern Airlines President and World War I flying ace Captain Eddie Rickenbacker. He is followed by New York City Mayor Vincent Impellitteri who tells the people of Puerto Rico, "We are now your neighbors."  The dedication of three planes and new air service is made by the triple-amputee Korean veteran Corporal Angel Gomez (in Spanish) of the Fighting 65th Regiment via phone line hook-up to Walter Reed Army Hospital in Washington, D.C. Many other members of the 65th Regiment are involved in the ceremonies.
Captain Eddie Rickenbacker is introduced by the general manager of WAPA, a radio station in San Juan.

Includes Spanish and English speeches.

Rickenbacker also receives an award from the Boy Scouts of Puerto Rico.
Audio courtesy of the NYC Municipal Archives WNYC Collection
WNYC archives id: 68798
Municipal archives id: LT227
More in: