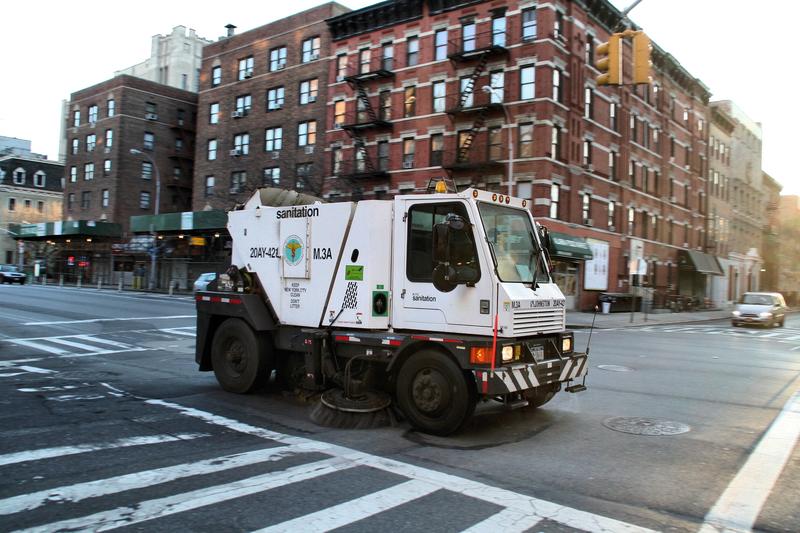 The New York City ritual of double parking on street sweeping days could be nearing its end. A bill before City Council would allow drivers to move their cars back as soon as the sweeper has passed, rather than waiting for the whole 90-minute window to end.
"It's tough to see the street being clean, and drivers not being allowed to park the car, go back to sleep, go back to the gym, go back to work," said transportation committee chair Ydanis Rodriguez. The measure would reduce pollution from idling cars, lower traffic from cars circling the block, and improve public safety, he said. "When you talk about Vision Zero, a double-parked car affects the visibility of a driver who is coming behind."
But the Department of Sanitation says the idea is unworkable.
For one thing, there's no way for drivers – or the police who ticket them – to know when a street sweeper's work is done, said Paul Visconti, assistant chief of cleaning operations at the city's Department of Sanitation. Unlike the department's snow plows, the street sweepers don't have GPS technology. And even if GPS were installed on all the machines, they sometimes have to double back for a second pass.
"If we didn't have to go around the block twice, it wouldn't be an issue. But we do have to go around the block twice in plenty of instances," Visconti said. He added that a second sweep of the block is more common in the fall, when leaves can clog the sweeper brushes. "The bottom line is to get the curb clean."
Council members were skeptical.
"I have not had that experience of them doubling back," Councilman I. Daneek Miller responded. "If that's the case, it would be a good thing."
Any change to the parking rules could have serious budget implications. Inspector Dennis Fulton of the NYPD's transportation bureau said the department has issued more than 500,000 $45 tickets this year for not moving a car during alternate side parking hours. But, Fulton added, individual officers have discretion in issuing tickets, and they do not automatically ticket drivers who park before the street sweeping window ends. The sanitation department gives drivers leeway too, said Visconti. 
"We're not in the business of writing tickets to cars parked on a street that has been fully cleaned," he said.
That's not what several council members have heard from their constituents. Councilman Costa Constantinides said an officer ticketed every car on his street the other day, ten minutes before alternate side ended.
"I walked out to see an entire block up in arms about receiving a ticket, for which there seemed to be no good public policy reason," he said. "These are reasonably upset individuals who feel that the city is just doing this to ding them, to take $45 from their pocket."
A similar bill was introduced in 2010, but failed to gain support from Mayor Bloomberg or then-Council Speaker Christine Quinn.
The current bill has 40 co-sponsors, but Speaker Melissa Mark-Viverito is not one of them. 
The city's former transportation commissioner had her own take on the issue: 
Signs of summer: The hum of AC and a wry NYT epic on parking. Still waiting for story about why free parking is OK. http://t.co/aGL3Pj7jRp

— Janette Sadik-Khan (@JSadikKhan) June 30, 2014