Time Running Out for Carriage Horses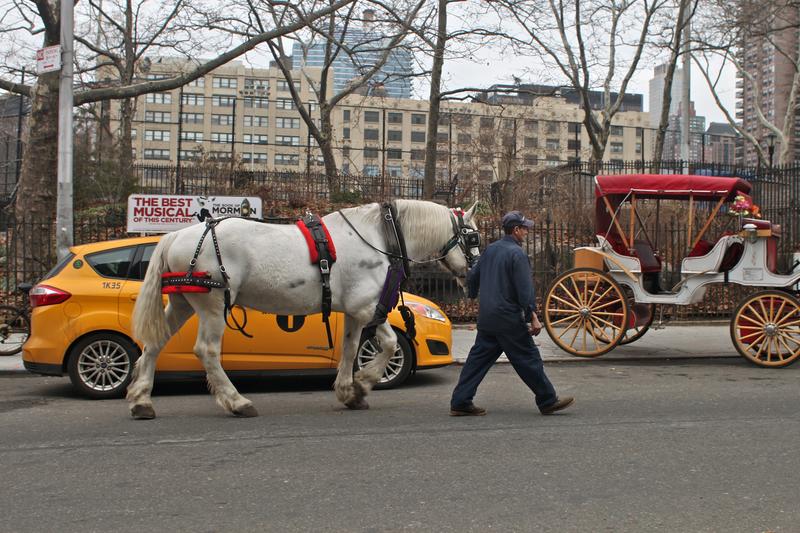 New York City Mayor Bill de Blasio is moving forward with his plan to ban carriage horses from giving rides in Central Park.
"We are going to quickly and aggressively move to make horse carriages no longer a part of the landscape in New York City, they're not humane they're not appropriate to the year 2014, it's over," said de Blasio just before taking office.
A New York City carriage horse housed at the West Side Stables. (Amy Pearl/WNYC)
But about 160 drivers, some of them members of Teamsters Local No. 553, have vowed to buck the mayor's plan.
"De Blasio is a new mayor, and he thinks that he's just going to walk in and end it and say it's over? He doesn't know New Yorkers very well," said carriage horse driver Steve Malone.
A horse is led down the ramp at the West Side Stables in New York City. (Amy Pearl/WNYC)
Animal activists have been trying for decades to shut the industry down. 
"These are sentient beings, animals meant to be out in the countryside, running, grazing," said Allie Feldman, executive director of anti-carriage group NYCLASS, New Yorkers for Clean Livable and Safe Streets. Feldman wants the carriages replaced with electric antique cars, something the mayor has suggested as well.
A horse peeks out of its stall at the West Side Stables. (Amy Pearl/WNYC)
The co-founder of NYCLASS is also a real estate mogul. Steve Nislick was at one time the CEO of the Edison Properties, the company that also owns Manhattan Mini Storage. Carriage drivers and stable owners allege Nislick is only interested in turning the stables into high rise condos, which NYCLASS denies. Nislick declined an interview with WNYC.
A carriage horse clops through traffic down 55th Street in Manhattan, back toward the West Side Stables. (Amy Pearl/WNYC)
NYCLASS has promised to find new situations for all New York City carriage horses if a citywide ban puts them out of work. But rescue groups are skeptical.
A carriage horse lays down in the stall at West Side Stables. (Amy Pearl/WNYC)
"We are short on dollars and long on horses," said Neila McCracken, head of Saddlebred Rescue  and North Wind Stables. 
A carriage horse makes its way down the ramp at the West Side Stables. (Amy Pearl/WNYC)
Without a job in New York City, "A whole buy of horses [will be] shipped straight to slaughter because there's no place for them to go," added McCracken.
Stephen Malone, spokesman for the Horse and Carriage Association, gets his rig ready to roll. (Amy Pearl/WNYC)
De Blasio refused an interview on horse carriages, but his Administration emailed a statement:
"Mayor de Blasio remains committed to banning horse carriages and replacing them with motorized vehicles. In coordination with the Department of Health, the Administration is looking at the most effective way to ban horse carriages, whether legislatively or other routes, and will move forward in the coming weeks."
Carriage Driver Jean Mitchnej with his horse, Scoobi at Clinton Park Stables, New York City (Janet Babin, WNYC)
The drivers vow to take legal action if an agreement with the city cannot be reached.
Cinderella's Parking Lot, Clinton Park Stables, NYC (Janet Babin/WNYC)
CORRECTION: An earlier version of this story described Steve Nislick as the owner of Manhattan Mini Storage and Edison Properties. He was a former CEO.