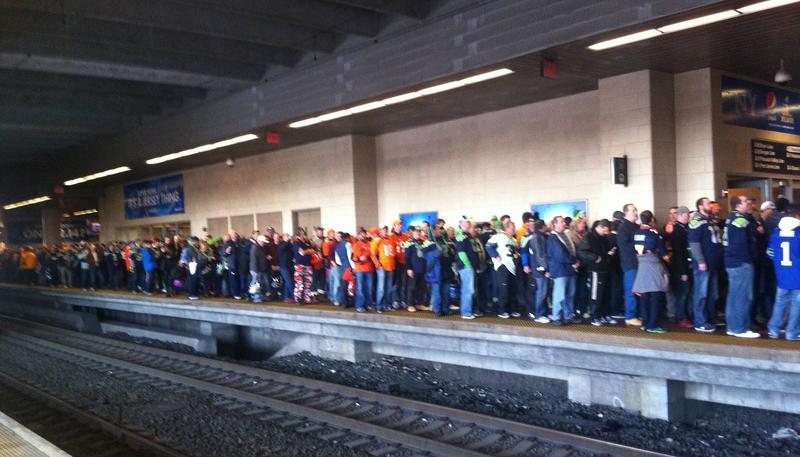 During the Super Bowl, the train to and from MetLife Stadium was overwhelmed with thousands more passengers than predicted. Now New Jersey legislators want a reckoning.
e chairman of the state Senate's Legislative Oversight Committee - See more at: http://www.northjersey.com/news/NJ_Transit_hearings_expand_Super_Bowl_website_also_are_issues.html#sthash.BDBuW027.dpuf
Before and after the big game, the only way for transit riders to get in and out of the Meadowlands was via New Jersey Transit's Secaucus rail station. Its one-seat ride to Penn Station made it an easy choice as a hub serving the event. What's less understandable is why it was the only transit choice, ignoring other options, like the nearby Hoboken transit hub and the agency's bus fleet — which routinely shuttles thousands of people through the Lincoln Tunnel every day.
One reason that keeps coming up in official explanations: security. An NJ Transit spokesman security was the reason that "the decision was made" to limit transit to Secaucus.
But federal officials say they took their cues from the locals. Ross Feinstein is a spokesman for the Transportation Security Administration, which operated the screening checkpoint at Secaucus before the game. He said the agency could have set up screening operations anywhere. "The TSA wouldn't be dictating to a local transit agency on how to run their operation." he said.
That view was echoed by Andrew McLees, the special agent in charge of Homeland Security in Newark. "We're there to support (NJ Transit)," he said. "We don't take the primary role because it's a local event...they told us they were going to have Secaucus as the choke point, and we supplied personnel to help facilitate that...If they had said to us 'we also want to use Hoboken,' we would have entertained that. It's not ours to choose."
And it probably wasn't just NJ Transit's decision, either. "The NFL played a large role in facilitating what transportation modes would be emphasized," McLees said. "They laid out the transportation plan, and we provided the security plan to meet those needs."
The NFL, which hired an outside company to assist with transportation planning, didn't respond to repeated requests for comment.
One of those questioning the transportation planning process is New Jersey Senator Paul Sarlo. Earlier this week, he sent a list of questions to NJ Transit officials, asking for an explanation of the Super Bowl's transit problems. Sarlo stressed that, overall, he had been thrilled with the Super Bowl. "The whole entire thing was a huge, huge success," he said. "There was nothing anybody could complain about."
Except, as he put it, "those silly three hours after the game."
It was the "first mass transit Super Bowl and everybody listened," he said. "How good was that, right? But the agency responsible didn't get the memo."
The head of the state Senate's Legislative Oversight Committee has said he plans to hold hearings on the Super Bowl — and a panoply of other NJ Transit missteps — next month.