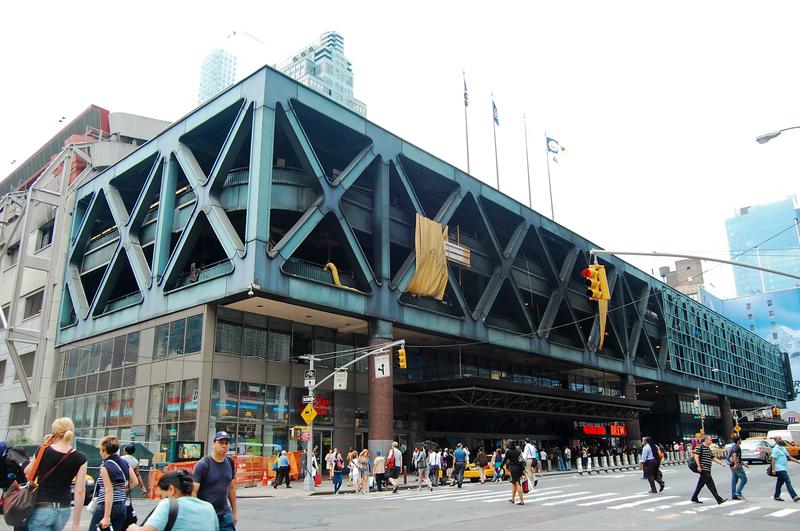 By New Jersey Transit's own standards, things at the Port Authority Bus Terminal are not good: only 85 percent of buses left the terminal on time in the month of May.
New Jersey Transit officials heard complaints from the public about the antiquated, maxed-out facility located in the heart of Times Square at their June meeting Wednesday.
One woman, who said she's commuted between Hasbrouck Heights and the Port Authority Bus Terminal for 37 years, said it was routine to wait for over 35 minutes for a bus. She added, "To have so many individuals crammed into such a small space on the Port Authority gate is really very unsafe, should there be an incident in that building."
She called the terminal "a commuting disaster."
Matthew Walters, who operates the Delayed on NJ Transit twitter account — which retweets complaints from commuters — told board members, "You may not be aware, but there is a daily flood of complaints from New Jersey Transit bus commuters at the Port Authority Bus Terminal, between 5 and 7, basically every evening."
Random sample:
The baby in the stroller in front of me is crying about the unsafe conditions in #pabt I feel ya, lil guy!! pic.twitter.com/E4yGR8qBx2

— Daniel Rigano (@d_rigano) April 28, 2014
Standing at #PABT Gate 311 for 30 minutes with 3 empty buses at the doors idling. Hello, @NJTRANSIT -- anyone home?

— NJTransit Bus Rider (@phelam166T) June 10, 2014
Just another Monday at #PABT something need to be done about this pic.twitter.com/5lyQEzZSEE

— Mary K. Blanusa (@MaryKBlanusa) May 12, 2014
Ronnie Hakim, the executive director of NJ Transit, says the agency is well aware of the bus terminal's shortcomings, and it's working with the Port Authority and the New York City Department of Transportation to improve the flow of bus traffic. It's also conducting a "field review" to record bus arrival times and identify pinch points.
NJ Transit has already made some changes, she said. "We're moving where we're putting our buses. Adjusting some of the schedules. Looking at where our bus gates are assigned." Also each bus departure gate will also have gate agents, she said, who can provide information to passengers based on real-time contact with dispatchers.
"It's just a beginning," Hakim said. 
The ball, however, is in the Port Authority's court. The Authority says it hopes to build a bus annex, which would help alleviate some of the congestion. Until then, it's urging passengers to leave feedback on their website. 
Passengers have another opportunity to vent frustrations Wednesday night: local New Jersey legislators are meeting with the public in Teaneck to talk about conditions at the bus terminal. Representatives from both the Port Authority and New Jersey Transit will be there.