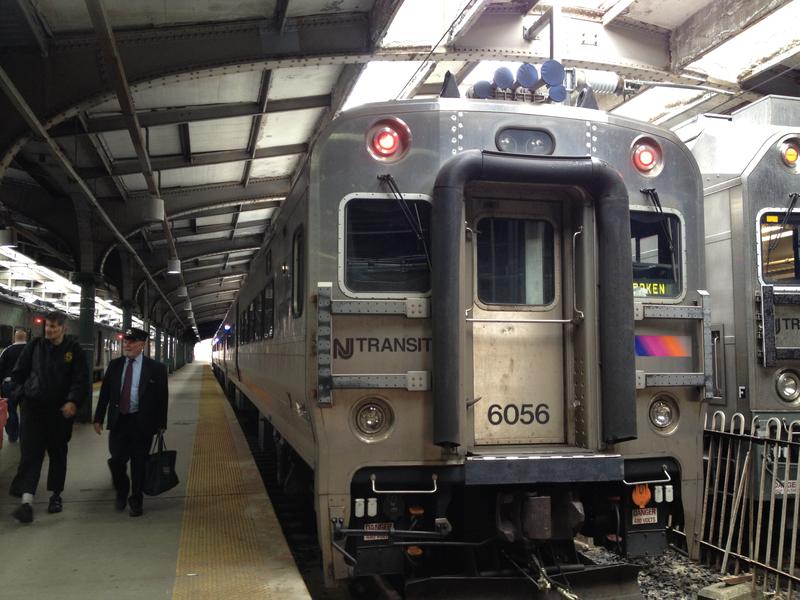 Rail workers descended upon the Newark headquarters of NJ Transit Wednesday, using the public comment period of the agency's monthly board meeting to urge leaders to reach a deal before a March 13 strike deadline.
"I urge this board to assist us in any way to avert a possible work stoppage," said Stephen Burkert, the general chairman of the SMART union transportation division and a spokesman for the coalition representing rail workers. He told the board that laborers want to "come to an agreement at a conference table, not a picket line."
But speaking to reporters outside the board room, Burkert said the the ultimate dealmaking power lies not in Newark but 60 miles to the southwest. "We have been trying to negotiate with NJ Transit," he said, "but their answer was consistently, 'We need to get word from Trenton.' Yet Trenton never showed up at those meetings."
Because NJ Transit is a state-operated agency, Gov. Chris Christie can veto any labor deal within 10 days of board approval. It's unclear how involved, if at all, the governor has been in negotiations — or if he'd become more involved once he steps off the presidential campaign trail — but he controls the agency's increasingly strapped finances. 
Kevin Roberts, a spokesman for Christie, referred questions about contract talks to NJ Transit and said any union criticism of the governor's office was "pure posturing."
Meanwhile, workers have been without a contract for nearly five years, and although talks are ongoing, the two sides are far apart when it comes to insurance. "Heath care is the big thing," Burkert said. "They're looking for an 800 percent increase in the cost of the premium."
According to the federal labor board report, union rail workers currently pay about $81 a month for health insurance. The coalition's offer calls for workers to pay two percent of their salary for health insurance. NJ Transit wants workers to pay 10 to 20 percent of health insurance costs, depending on date of hire.
Burkert described NJ Transit's offer as a non-starter because it would increase health insurance costs to workers by "hundreds" of dollars a month, which he said was tantamount to a pay cut. NJ Transit would not confirm details of their offer.
"The subject of negotiation is not going to be done in public," said NJ Transit's interim executive director, Dennis Martin. "It's going to be done in private. And we hope to reach an affordable solution."
Martin said another round of talks was scheduled, but the coalition could not confirm.
At Wednesday's meeting, riders urged the two sides to come to a deal. "Go down to Trenton," Orin Getz of the NJ Association of Railroad Passengers told the board. "They have to give you the money that you need to keep NJ Transit operating properly and provide enough money to negotiate an equitable settlement. Five years of working without a contract is just dead wrong."
By the numbers: NJ Transit's rail labor dispute
Earliest date a strike or a lockout could legally happen: 12:01 a.m. on Sunday, March 13
Number of commuters who take NJ Transit trains on an average weekday: 160,000
Number of rail workers involved: approximately 4,220, represented by a coalition of 17 different unions
Length of time workers have been without a contract: nearly 5 years
Number of federal mediation boards who have ruled in favor of the unions: 2
Last time NJ Transit rail workers went on strike: 1983
Length of time that strike lasted: 34 days