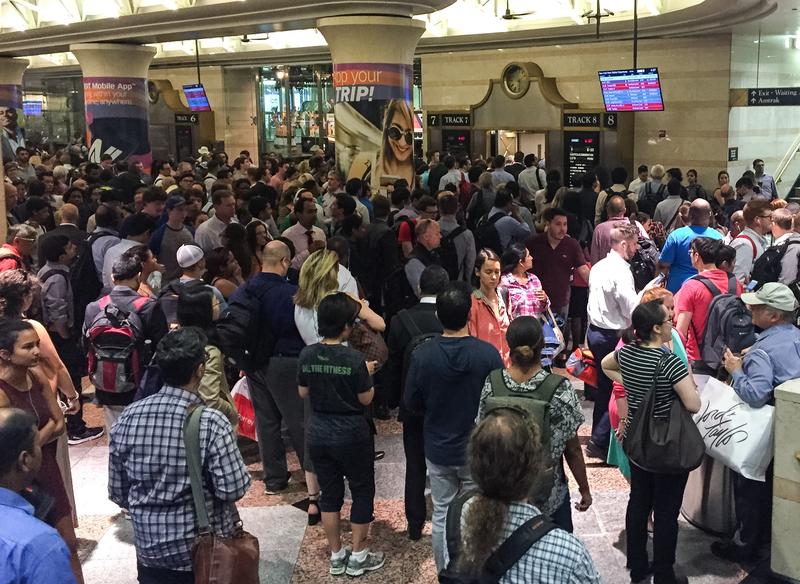 It's the nation's largest statewide transit agency. It provides nearly a million rides each weekday to people living in the country's most densely populated state. But instead of having a sustainable funding source, NJ Transit regularly faces budget gaps — and this year is no different.
"The number is $46.3, just to nail it down," Mike Lihvarcik, the agency's chief financial officer, told reporters at a meeting earlier this month.
That's $46.3 million. The amount the agency really needs to provide respectable service is likely much more. The latest federal statistics show NJ Transit trains racked up 213 major breakdowns in 2014. That's two-and-a-half times as many as Long Island Rail Road. Meanwhile, WNYC's Data News team found that in 2015, 30 percent of NJ Transit's morning rush hour trains arrived into Penn Station late, causing more than just inconvenience for commuters like Jack Dugan.
"It's gotten me into trouble with work quite a bit," he said. "They think I'm making it up. I don't even know what to say."
Most of those delays stemmed from the single, hundred-year old tunnel that NJ Transit shares with Amtrak. Years ago, NJ Transit began building its own tunnel, known as ARC. But Gov. Chris Christie cancelled it in 2010. He used that money, in part, to pay for repairs to roads and bridges. 
That financial diversion fits a familiar pattern. A study by the Tri-State Transportation Campaign found that NJ Transit moved more than $5 billion from its capital budget to cover operating expenses over the past 15 years.
"That's why we're looking at a number of necessary transit projects that are on the shelf," Janna Chernetz, Tri-State's director of New Jersey policy, said. Projects have languished for years, like extending the Hudson-Bergen light rail line ... into Bergen County, or building a rail line between Glassboro and Camden in the southern part of the state. 
While investment in infrastructure lags, the morale among NJ Transit staff members is tanking. Non-unionized workers haven't seen a raise since 2009 — not even cost-of-living increases. The agency is experiencing brain drain at the highest levels. It's lost a number of senior people in the past year, including its executive director, Ronnie Hakim, who is now running New York City Transit. NJ Transit has been trying to replace her for seven months, without any luck.
If you wanted a glimpse at NJ Transit's future should the agency continues down this path, you might want to check out "The Warriors." The 1979 movie is an admittedly overblown gang drama. But the plot line hit close to home for New York City commuters when it first came out: trying to get from one part of New York City to the other, on a dysfunctional subway system plagued by crime, graffiti, fires and fare evasion.
The same year The Warriors hit the theaters, then-New York Gov. Hugh Carey called Richard Ravitch, a lawyer and a municipal troubleshooter, into his office. Carey asked Ravitch to rescue the MTA.
"I looked at him and said 'are you crazy?'" Ravitch recalled in a recent interview. "I ride the subway system every day. You don't."
But Ravitch gave in, and took over an organization in a death spiral. Like NJ Transit today, the MTA had been cannibalizing its capital budget. There wasn't enough money to maintain its tracks, signals and train cars. The result: the average subway car broke down once every 6,000 miles. That's 20 times more frequently than today.
Ravitch knew he had to financially stabilize the MTA. His solution involved borrowing money, increasing state and local aid — and taxes. Five kinds of taxes, to be precise, including an increase to the sales tax, a petroleum business tax, and a real estate transfer tax. That investment lay the groundwork for a turnaround. And the system, did turn around: in 1979, average weekday ridership was about 3.6 million. Today, the system flirts with 6 million subway riders a day, and even a muscle-car lover like New York Gov. Andrew Cuomo proselytizes for transit.
"That is going to be our future," he proclaimed at a recent event at LaGuardia Airport, where he stood shoulder-to-shoulder with Vice President Joe Biden. "Moving more and more people through mass transit, rather than through cars. And I'm proud to be the governor who made the largest investment in MTA's history."
That's not the case on the other side of the Hudson, where tax cuts — raather than tax increases — are referred to as examples of "fairness" and "equity." New Jersey's gas tax — which indirectly funds NJ Transit's capital budget via the nearly-insolvent Transportation Trust Fund — is the second-lowest in the nation. It hasn't been raised since Gov. Thomas Kean was in office. A bipartisan group of legislators this year has proposed to change that. But Gov. Christie is gearing up for a throwdown.
"They are advocating for a 23 cent increase — a more than doubling— of the gas tax," Christie told a group of Morris County business leaders earlier this month. "It's time to fight the fight, everybody, and I am up for it. I am ready."
Jon Whiten, a vice president at the left-leaning think tank New Jersey Policy Perspective, said that when it comes to legislators and the governor, "everything is very centered on driving and car culture. Lawmakers all drive to Trenton. They all drive to their district offices and their district meetings."
Earlier this month, a reporter asked the governor his opinion about a proposal to add a stop in front of the Trenton State House to NJ Transit's River Line in the central part of the state.
"I'm a skeptic," Christie said about the chances of adding the station. "Use Uber."