NJ Legislature Passes Transportation Funding, Despite Some Passionate Opposition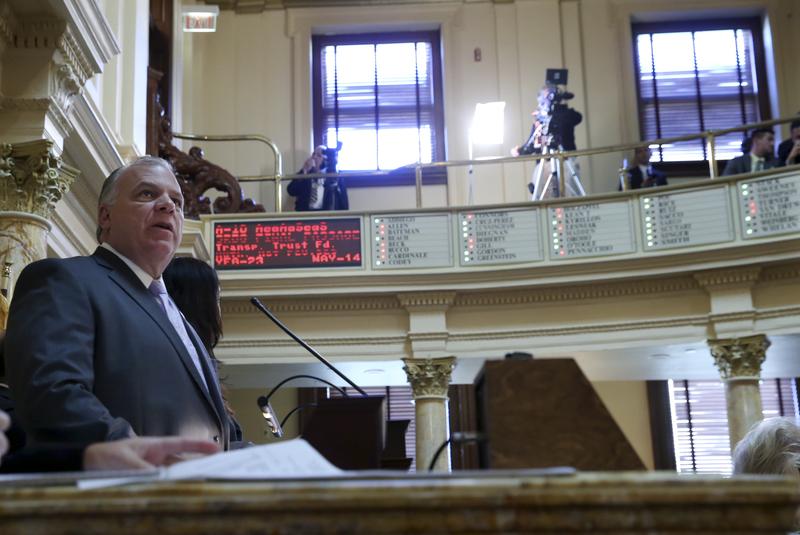 Almost three months to the day after Gov. Chris Christie ordered a shutdown of transportation projects across New Jersey, lawmakers have agreed to a deal that replenishes the ailing transportation trust fund by raising the state's gas tax by 23 cents per gallon.
The decision comes little more than a week after a deadly NJ Transit train crash threw a spotlight on the state's infrastructure. The legislation raises $2 billion a year for roads, bridges and transit, reauthorizing the fund for eight years. It also includes a decrease in the state's sales tax, a phase-out of the estate tax and tax relief for veterans, retirees and low-income earners. The bills now head to Christie, who is expected to sign them.
"This day is too long in coming, but it's a pivotal day for New Jersey's future," Assembly Speaker Vincent Prieto said in a statement. "We've taken a major step toward finally bringing New Jersey a 21st century infrastructure that will keep and attract businesses, leading to more jobs, better paying jobs and improved public safety."
The bills passed comfortably in both houses of the legislature, despite some passionate opposition over several key aspects of the deal.
"I've been roaming these halls since 1986 as a legislative aide, an assemblyman, a senator," Sen. Kevin O'Toole said. "Touching four decades here, this bill is the most significant bill we have ever seen in 40 years."
Debate revolved largely around a series of tax cuts included in the legislation, as well as the creation of a four-member board that must sign off on all transportation projects. 
Christie pushed for the cuts as part of his call for "tax fairness" to offset the gas-tax hike. He and Prieto initially agreed on a sales tax cut of 1 percentage point, but under the new deal, the sales tax will be cut from 7 to 6.625 percent and the estate tax completely phased out by 2018. Retirees and veterans will also see a substantial tax decrease, and the earned income tax credit will increase, benefiting low-wage earners.
Some legislators and liberal advocates say those efforts at tax relief aren't enough to help working New Jerseyans.
"Falling in line with Gov. Christie, Senate President Sweeney and Assembly Speaker Prieto, legislators agreed to drain more than $13 billion from the state's coffers over the next 10 years, at a time New Jersey already can't afford to pay past, current or future bills," said John Whiten of New Jersey Policy Perspective. "They handed a gigantic tax break to the heirs of the wealthiest 5 percent of New Jersey residents while stripping funds needed for services we all rely on every day."
Assemblywoman Amy Hadlin went so far as to call the decrease in the sales tax a trick that won't benefit New Jerseyans. "Promising people unfair fairness is a little bit like gas — it's really slick, but when you get close to it, it smells," she said.
Critics also took issue with the creation of a committee that will review all state transportation projects, and must approve them unanimously before any appropriation of transportation trust fund money.
Supporters of the The Annual Transportation Capital Program Approval Committee say it will provide additional government oversight of projects. The governor, assembly speaker and senate president will name three "public members" of the committee, the only requirement for their appointment being that they come from north, central and south Jersey, respectively. The fourth member will be Department of Transportation commissioner — an appointee of the governor. 
Opponents like Sen. Ray Lesniak say the fact that the members are political appointees invites the possibility of corruption.
"Senators, imagine hanging over your heads these three people wheeling and dealing just like what's happening at the Port Authority," Lesniak said during debate on the Senate floor, referring to the ongoing Bridgegate corruption trial. "This will make the shenanigans at the Port Authority look like a walk in the park."