A Night of Johnny Mercer with the John Pizzarelli Swing Seven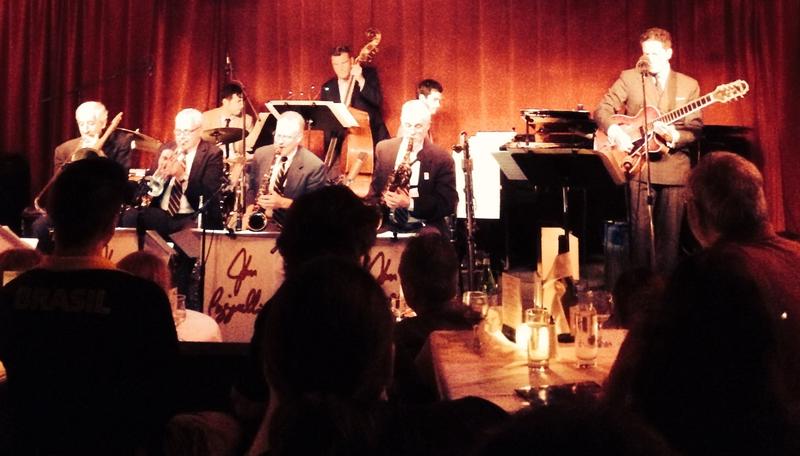 The John Pizzarelli Swing Seven ensemble is at Birdland in New York City this weekend. It's an expanded version of his quartet and, as he announced last night, we were about to see their fifth performance as a unit.
We, team Jonathan, arrived early and were escorted to our seats by club owner Gianni Valenti, a great supporter of the American Songbook, and were seated next to another couple who were clearly as big of fans as we were. They were also taking notes on the set list and knew who was in attendance.
"Jane Monheit's at the bar," the lady said. She was indeed, as were many of the citizens of jazz, preparing for the music to come. Sitting a few tables down from us was Jessica Molaskey along with occasional Radio Deluxe co-host Madeleine Pizzarelli. This music is a family affair indeed.
The addition to the John Pizzarelli Quartet for the engagement is a horn section led by trombonist John Mosca, director of the Vanguard Jazz Orchestra. They were on stage warming up when we walked in, tuning, checking reeds, looking at the scores. They were wearing matching ties. I also own one of these exact ties, coincidentally. Unfortunately I did not have it on last night. That would have been funny. Martin Pizzarelli, Kevin Kanner and Konrad Paszkudzki, the regular members of the John Pizzarelli Quartet, casually got in place moments before show time. The stage was set, so to speak, and the band wasted no time getting to it when John Pizzarelli made his entrance.
The group opened with "I Got Out of Bed on the Right Side" by the songwriting team of Johnny Mercer and Arthur Schwartz. It's a tune from the film Dangerous When Wet and the arrangement for the horns was evocative of the Miles Davis album Birth of the Cool. Most of the arrangements were done by Don Sebesky, who did right by the music. The added colors and textures he came up with were a great addition to these classic songs.
The program was comprised entirely of Johnny Mercer songs. The amount of primo material the man penned is astonishing when played in succession - "Skylark," "Dearly Beloved," "Goody Goody," "Jeepers Creepers," "Emily." Pizzarelli played a solo guitar medley of "I Thought About You," "I Remember You," and "I'm With You" that was stunningly beautiful.
The arrangement of "I'm Old Fashioned" was mashed up with the Beatles "When I'm 64," bringing out the first impersonation of the evening – John Lennon. "See what we did there? Put another song in the arrangement." It's difficult to translate the fun he has with his audience, but there aren't many musicians as engaging at Pizzarelli. That alone is worth the price of admission.
The other impersonation was of Jonathan Schwartz, who Pizzarelli does extremely well. After finishing "Something's Gotta Give," he channeled Schwartz saying, "Why would anyone sing that song?" and proceeded to explain that Jonathan had called him earlier in the day, "I heard you said something about me at Birdland. What exactly did you say?"
The night was filled with moments like this, moments of levity and humor, something often missing in jazz these days. Pizzarelli did his best to embarrass his daughter with a joke about her Grandfather (Bucky Pizzarelli), show his (feigned) disappointment in the audience's sing-along ability and poked fun at himself in ways that were both hilarious and endearing. While there were moments that felt like we were hearing a new band still getting to know each other, overall, the performance was top shelf. They were recording the show for an album release and continue to do so throughout the weekend. You can catch them at Birdland through Saturday.