Soundcheck
Nickel Creek: The Virtuosic Bluegrass Trio Reunites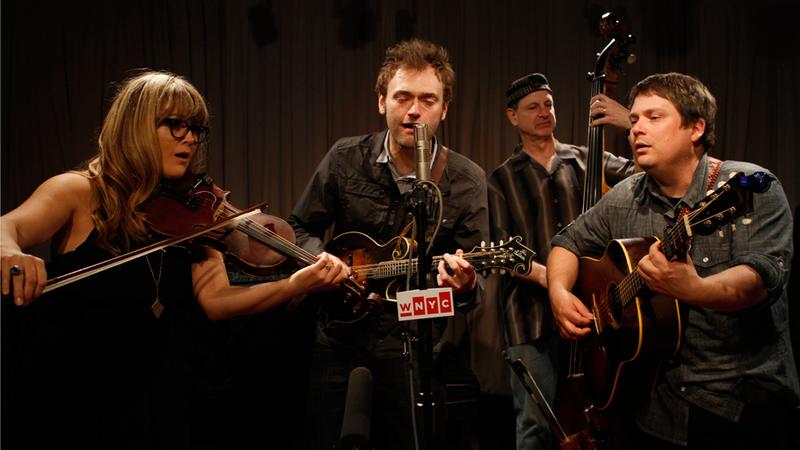 Nickel Creek almost immediately wowed audiences when they burst onto the circuit in the early '90s. A trio of precocious child prodigies -- Chris Thile on mandolin and banjo, Sara Watkins on fiddle, and her brother Sean Watkins on guitar -- Nickel Creek boasted adventurous songs that melded elements of progressive bluegrass and country, classical and jazz, traditional roots and rock, performed with ecstatic virtuosity and youthful liveliness.
But after three delightful and acclaimed albums in the early 2000s, Thile and the Watkins each went their separate ways, pursuing massively successful solo careers and accolades. Sara Watkins launched a solo career and toured with The Decemberists; Sean Watkins formed Fiction Family, and both became a staple at L.A.'s club Largo. Meanwhile, Thile has played with nearly everyone: he co-founded The Punch Brothers, performed with Michael Daves, recorded with Yo-Yo Ma, Bela Fleck, Stuart Duncan and Edgar Meyer on the Goat Rodeo Sessions, tackled Bach on the mandolin, and on and on. Oh yeah, and he became a MacArthur Fellow, too.
So it's not like Nickel Creek needed to reform (they were doing just fine, thank you!) -- but it's a welcome return all the same. Now eight years after its last album, the trio has just released a new album, A Dotted Line. The concise 10-song record finds each member equally refreshed and wiser from those experiences. And remarkably, while each member's distinctive musical voice comes through, the chemistry between Thile and Sara and Sean Watkins when they play together has never felt stronger.
Listen as their vocal harmonies glide together, as Thile's dexterous mandolin melodies playfully intertwine with Watkin's warm violin, and as the genre-defying songs allow room for spontaneity and fun. The record -- which also features guest spots from master bassists Edgar Meyer and Mark Schatz and drummer extraordinaire, Matt Chamberlain -- collects originals and a handful of covers, like the Sam Phillips song "Where Is Love Now?" Ultimately, while A Dotted Line documents a more mature Nickel Creek than it once was, yet that joyfully rebellious spirit that so many of us fell for still shines through.
Set List:
"Rest Of My Life"
"Destination"
"21st Of May"