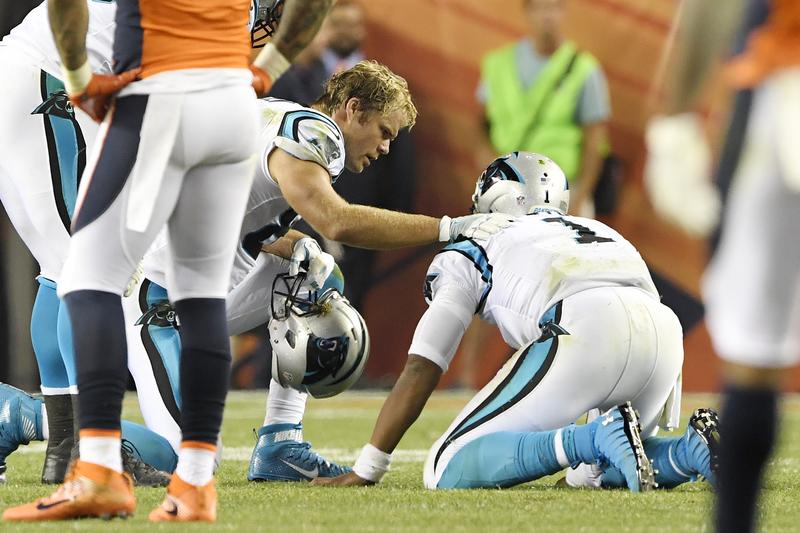 Click on the 'Listen' button to hear the interview
The NFL officially kicked off the season last Thursday with a close rematch between the 2016 Super Bowl competitors, the Carolina Panthers and the Denver Broncos. Tonight the season continues with its classic "Monday Night Football" traditional doubleheader.
But the literal sense of that word "doubleheader" has been giving the NFL brass growing headaches as former players diagnosed with concussion-related brain trauma continue to come forward. 
In Thursday's game, Carolina quarterback Cam Newton took several hits to the head, including one helmet-to-helmet hit that leveled him and was ruled an illegal hit by officials.  Newton continued to play. 
A few years ago, in response to the concussion outcry, NFL games now have one "concussion spotter" who sits in the booth, and two unaffiliated neurotrauma consultants for every game. They're supposed to stop a player from playing if they suspect a possible concussion during a play. That didn't happen with this game. Both the spotter and the neurotrauma consultants said they did not detect signs of a possible concussion.  
The league says the new protocols have been effective and many have praised the new method. Others say incidents like the one on Thursday are proof that the NFL changes are more about optics than preventative action. 
Chris Nowinski is co-founder of the Concussion Legacy Foundation. He tells us that these regulations make viewers feel better, but don't necessarily help the players.