News Analysis: Andrew Cuomo's 99 Percent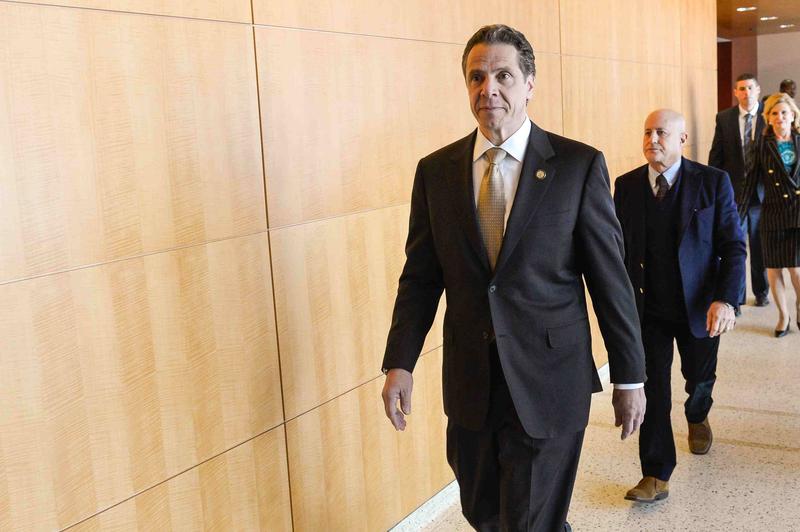 Andrew Cuomo is a man of grand, possibly national ambitions. New York's governor doesn't just want to win re-election. He wants to crush his opponent, win by the biggest margin in history, and beat his dad Mario's historic 65 percent vote tally from 1986.
To do that, the governor has focused relentlessly on racking up endorsements and raising money. Lots of it. As of January, he had $33 million in the bank.
Cuomo has so much money that Edwin Bender, who spends his days studying campaign contributions at the National Institute on Money in State Politics, struggles to find the appropriate superlative to describe it.
"Quite an accomplishment," he said, after reviewing the numbers. "Huge. An amazing feat, I guess I would say."
Cuomo has more money in the bank than Jerry Brown, the Democrat governor of California; Dan Malloy, the Democrat governor of Connecticut; Martin O'Malley, the Democrat governor of Maryland; and Pat Quinn, the Democrat governor of Illinois — combined.  
But what's more revealing is where that money has come from. 
George Pataki, the former Republican governor of New York, was no slouch when it came to fundraising. In his last two terms, Pataki raised 976 donations of $10,000 or more.
But Cuomo, who hasn't even served out one term, has raised 2,251 donations of $10,000 or more from bankers, hedge fund managers, real estate moguls, health care magnates — on and on.
By percentage, Cuomo had raised almost 60 percent of his campaign funds from large donors. Pataki? Just 35 percent.
On small donations, the contrast is striking, too: 7 percent of Pataki's funds came in donations of $250 or less. For Cuomo, that number is less than 1 percent, giving a whole new meaning to the slogan "We are the 99 percent." (story continues after chart) It should surprise no one that Cuomo's economic policies happen to be particularly pleasing to the big-money donors who are the source of 99 percent of his funds. 
In his State of the State address this year, which you could call the unofficial start of his campaign, Cuomo described his jobs strategy as starting with a "top-down reducing-tax theory." He promised to cut business taxes, bank taxes and estate taxes, thundering that he'd push for "the lowest corporate tax rate since 1968!" That, he said, would "really send a strong signal to business that this is a different day and we are doing it in a different way!"
In the speech, Cuomo mentioned the word tax 43 times. The word affordable? Three times. Poor, poverty, inequality? Zero, zero and zero.
Cuomo dislikes taxes so much that he made sure there was a big Albany rally in favor of charter schools that he could attend back in February, to eclipse a different rally organized by Mayor Bill de Blasio in favor of a tax for universal pre-K.
De Blasio still calls Cuomo his friend and is said to be set to give the governor's nomination speech at the Democratic convention Thursday.
The public humiliation of the mayor over schools — which included millions spent on television advertisements by many of the same donors who support Cuomo — felt like a betrayal to some who had supported both politicians.
Now to be sure, there's an argument, articulated by Kathy Wylde, president of the New York City Partnership, that big business warmed to Cuomo because he was taking the correct steps to fix the economy – in other words, that the money followed the policy, instead of the policy following the money.
"At a time particularly since the fiscal crisis of 2008, when most politicians are dumping on big business, dumping on Wall Street, Gov. Cuomo has reached out and said, 'Wait a minute, this is the engine of our economy, we need to update New York's laws and regulations and tax policies,'" Wylde said. "And that means a lot."
The business community is so pleased with Cuomo that one hedge fund manager actually wrote a million dollar check to the state Democratic party.
Others are not so pleased by tax policies that, in their view, drain public coffers. Two thousand public employees showed up in normally sleepy Suffolk County last month to protest Cuomo's fiscal policies. Unions are also unhappy, as are left-wing think tanks.
And this brings us to one endorsement that Cuomo wants really, really badly — from the Working Families Party, the avatar of progressive New York. New York is one of the few states that allows third parties, and those third parties tend to deliver key percentage points to governors. The kind of percentage points Cuomo needs to win his historic margin. 
Dan Cantor, national director of the Working Families Party, gives Cuomo points for passing a marriage equality bill and a gun control measure. But on economic issues, he says the party is "on the disgruntled side" over a budget that included tax cuts for banks and the very wealthiest New Yorkers.
The spin from the governor's campaign spokesman, Peter Kauffmann, is that Cuomo already enjoys the support of working families because of his "strong record of delivering on issues they care about," ranging from signing a minimum wage bill to "the lowest middle class taxes in 61 years." But for the Working Families Party, middle class tax cuts are an idea that last resonated in 1996, back when Andrew Cuomo was working in the Clinton administration.
Still, the party has offered a way out: Cuomo could pass a comprehensive public campaign finance bill — which would render him the last governor to rake in giant checks. For Cantor, reducing the impact of big money "is one of the keys that unlocks progress."
At the end of March, the budget deal that the governor concluded with legislative leaders included a public financing pilot project — in the state comptroller's race this fall — that nobody much liked. "He's consistently said the right things about fixing New York's disgraceful campaign finance system, but this is one area where the promise has not matched the reality," said Blair Horner, legislative director of the New York Public Interest Research Group. "Nothing's happened."
Last week, I asked the governor, who had just left a tourism conference with one of those cat-ate-the-canary grins, what he is doing to pass campaign finance reform. Not missing a beat, he answered:  "Begging, pleading, cajoling, haranguing, arguing, charming —everything I can do."
"Threatening?" I asked. Nah.
Cuomo has been doing all of those things to get the Working Families Party endorsement. He has only a week more — the state committee meets May 30. If they don't endorse the governor, party supporters worry he may try humiliate them, or punish them, as governors are wont to do when endorsements don't go their way.
Especially if they have $33 million…and counting.
[Editor's Note: This story has been modified from the original.  Mario Cuomo's 65 percent margin of victory was topped by Eliot Spitzer, who garnered 69 percent in 2006.]