Newark's New Leader: "Yeah! We Need a Mayor That's Radical!"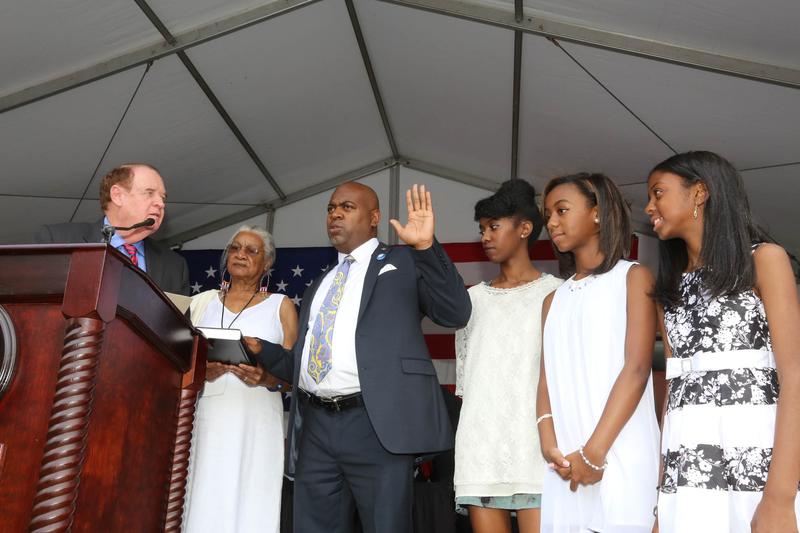 When Ras Baraka ran for mayor, his campaign slogan was, "When I become mayor, we become mayor."
When he took his oath outside of the New Jersey Performing Arts Center in Newark on Tuesday, hundreds of people in the crowd repeated the oath along with him.
"We're the mayor," Baraka said after being sworn in.
When Baraka served on the city council under now U.S. Senator Cory Booker, he emerged as one of his most vocal critics, accusing Booker of using the city to further his own career, and focusing too much attention on downtown development.
During his inauguration speech, Baraka promised to remain a man of the people who is accessible to residents.
"A mayor that puts his city first. A mayor that never forgets how he got here," Baraka said.
"Yeah! We need a mayor that's radical."
One of his priorities is to regain local control of the city's state run schools.
"We have a bitter struggle over our schools and a battle over who should lead them," he said.
She was Booker's choice to run the school district. But there's widespread opposition to her reform plan. It gives some principals the power to move teachers out and hire new ones, and closes schools with low enrollment.
"A mayor believes that there is no school we can't fix," Baraka said. "That we have to build them, not close them. "
But without local control, there's not much Baraka can do for schools.
Governor Chris Christie has just re-appointed Anderson for three more years.
Baraka's biggest challenges will be addressing the city's $93 million budget deficit and lowering crime.
Last year there were 111 murders in the city.
Earlier this week, there were three fatal shooting in less than a 24 hour period.
One of them was Cheyanne Bond, 17, who graduated from Malcom X Shabazz high school and was set to attend college in the fall. She and another teenager were shot while walking down the street.
The former state prosecutor who unsuccessfully ran for mayor, Shavar Jeffries, attended Baraka's inauguration and stressed the effect that crime has on the city.
"It's hard to get economic development when you have crime out of control," he said.
"It's hard to keep families in the city when you have young people like the young teenager, the graduate of Shabazz, who was killed earlier this week."
Jeffries disagreed with Baraka during the campaign about how to fight crime.
Jeffries advocates for minimum jail sentences for anyone caught with an illegal gun while Baraka said he would work with gang members to reduce shootings.
At his inauguration, the new mayor said it's easy to hate crime.
"But we all have to hate poverty the same way," he said.
"[Hate] hopelessness and cynicism the same way, unemployment and illiteracy the same way, disease and poor health the same way."