Newark Residents Weigh in on Police Reforms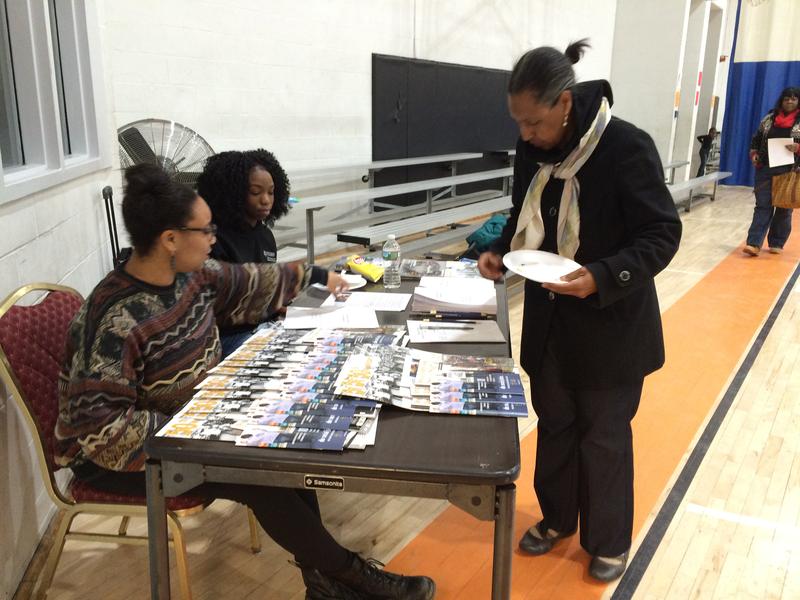 Newark resident Marisa Bell says she's never had any bad run-ins with Newark police officers. Her only complaint is she'd like to see them a little more often, like the time she had a fender-bender.
"They don't even come because they are busy with more serious things," she said Saturday at the West Side Park Community Center, after filling out a survey of her experiences with Newark police. "If there's somebody dying or there's blood, they come running... Unless you are bleeding or dying, you stay there a long time."
The survey is one component of a much broader, detailed 5-year-plan for revamping the city's police force. It was prompted by an investigation that found city police had violated citizens' rights.
"There were a series of unconstitutional practices happening in the city of Newark," said Andrea McChristian, associate counsel at the Newark-based New Jersey Institute for Social Justice. "There was excessive use of force, unconstitutional stops and searches, theft occurring as well, of civilian property."
The U. S. Department of Justice conducted a 3-year-investigation and issued their findings in 2014. It resulted in a consent decree, or agreement, between the city and the Justice Department to make changes within Newark's police department. It's one of many around the nation operating under a consent decree. Others include Baltimore, Ferguson and Chicago — all cities with a history of tension between black residents and law enforcement.

McChristian said the reforms in Newark will touch on a variety of areas, including use of force, bias-free policing, and body cameras. An independent monitor is overseeing the process and will be gathering community input about public safety and policing. The Institute for Social Justice is working with the monitor.

Newark Mayor Ras Baraka said in a news release that the city is listening to what residents have to say.
"As part of building trust between our police and the community, it is important to hear from residents what we can be doing better as well as what they are pleased with," he said. "This survey will give Newarkers the opportunity to speak their minds."
The survey is available online at the Independent Monitor's website.
Residents can also take the survey on Saturday, March 25 at the Ironbound Community Corporation, 25 Cortland Street, from 3 p.m. to 5 p.m. and on Saturday, April 1 at La Casa de Don Pedro, 23 Broadway, from 3 p.m. to 5 p.m. 
Independent monitor Peter Harvey will update the community on the first year of the consent decree at a meeting on March 28 at La Casa de Don Pedro.