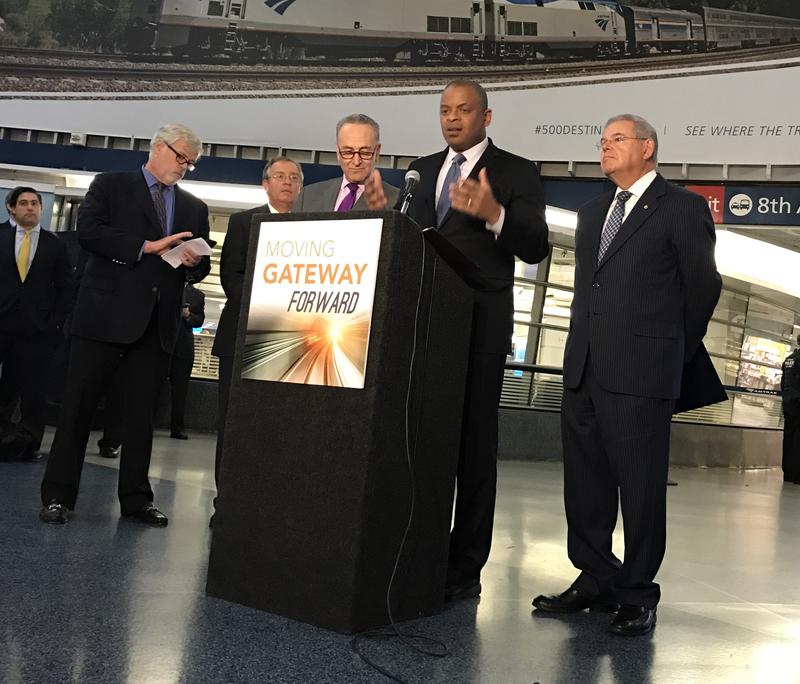 Federal officials say that progress is being made on the plans to build new rail tunnels under the Hudson River.

Lawmakers from New York and New Jersey say that the project has received a special designation that will allow for quicker environmental review and make it eligible for federal financing.
New York Sen. Chuck Schumer said that's a good thing, because the existing tunnels — owned by Amtrak, and heavily used by New Jersey Transit — are in dire shape. "They're over a hundred years old," the Democrat said. "If they're to collapse, they could collapse at any time."
He spoke Friday in Penn Station at a press conference attended by U.S. Transportation Secretary Anthony Foxx, New Jersey Sen. Robert Menendez, and officials from Amtrak and the Port Authority.
Wait, how bad are the existing tunnels?
"I didn't say they're going to collapse any moment," said Schumer. "I said they could collapse at any time, we just don't know." Later he walked that back even further: "I don't mean the tunnel is going to collapse. 'Fail' is a better word."
(Amtrak, which owns the tunnel, says it regularly inspects the structure for safety.)
Now that the review process has been expedited, it's expected that permits that could have taken six years to obtain will now take just two.
But the specter of a previous tunnel project looms large over Gateway — especially given the upcoming election. Could Gateway go the way of the ARC tunnel, ingloriously cancelled by New Jersey Gov. Chris Christie in 2010?
"We're making sure there is no one who can kill it," said Schumer darkly, "and they will suffer dramatic consequences if they do."
"We turned the hourglass over," said Anthony Coscia, the chairman of Amtrak. "We're building this project, there is no turning back, and we don't believe there's anyone who views there should be a turning back."
But lining up funding will take some time. "We cannot starve our infrastructure and expect it to perform," said Secretary Foxx. "Nor can make $23 billion appear overnight in grant funding."
The tunnel project is expected to begin construction in 2019.