New York's Hottest Gym Is the Metropolitan Museum of Art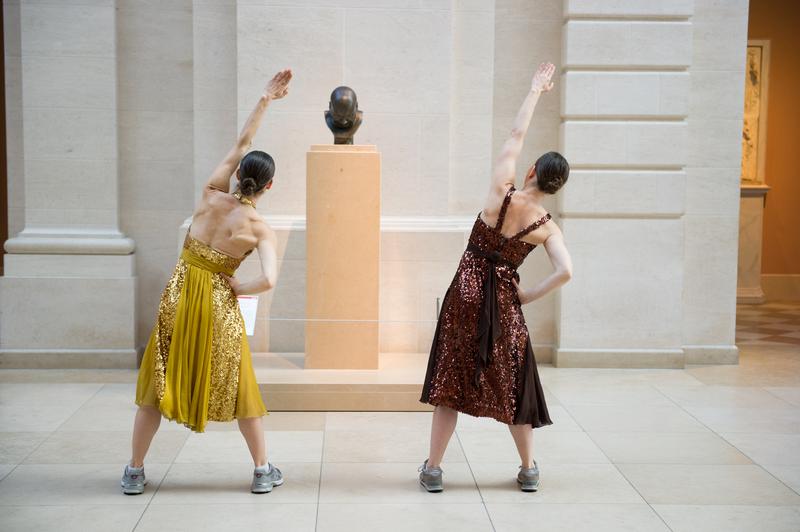 The Met's Great Hall has a way of humbling you — of hushing you into quiet contemplation. But for the next few weeks, it's also the starting point for Monica Bill Barnes & Company's "Museum Workout," an experience that turns the museum's best-known exhibit spaces into a singular, sprawling gym. The 45-minute workout takes visitors on a brisk two-mile journey through the museum, complete with squats, jumping jacks, fist-pumping, and a power pop bluetooth speaker soundtrack featuring the Bee Gees, Lionel Richie, and Kiki Dee. 
Your tour guide choreographers are Monica Bill Barnes and her dance partner, Anna Bass, who worked on getting the Met's blessing for their unorthodox concept for over two years.
"It's one of the most expansive spaces in New York City," Barnes said. "To be able to move through all the different galleries, and the rooms, and the spaces they've created felt like such an incredible opportunity."
Most of the 45-minutes is spent doing just that — moving through galleries, but you do occasionally stop to, say, pop a dozen squats in front of John Singer Sargent's "Madame X."
If the experience leaves you laughing, that's okay.
"There's something that I feel like happens when you can laugh at yourself," Barnes said. "When you can laugh at a situation that literally lightens the mood but also opens you up to experience things differently."