Olympics Get Mixed Reviews From New York's Russians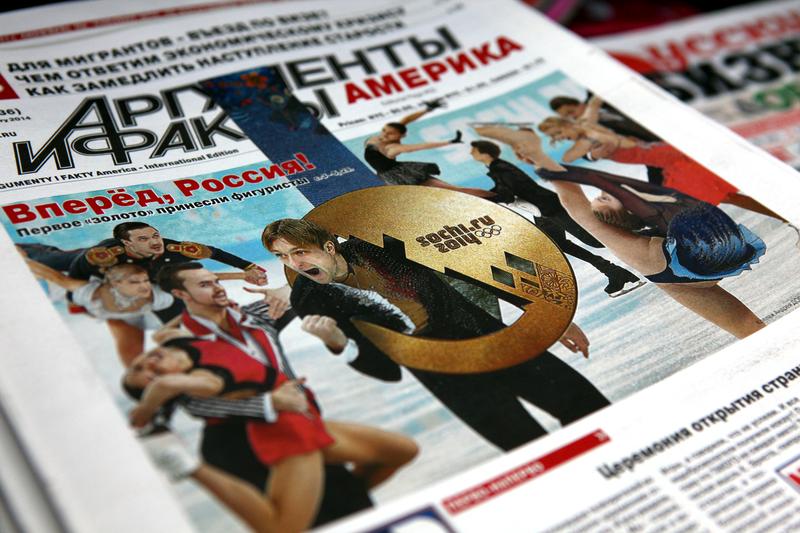 The Olympic games in Sochi can be seen in barber shops, restaurants and cafes in Brooklyn's Brighton Beach neighborhood, one of the largest communities of Russian immigrants in the city. But loyalties are torn between the old country and the new.
"I love it, the Olympics," said Regina Vudina, who works at Jack's Barber Shop in Brighton Beach. She sneaked a peek at cross country skiing events as she swabbed goopy hair coloring on a customer's spiky hair.
The hairdresser from Odessa called the aerial snow sports — snowboarding and ski jumping — "magic." She's lived in New York for 22 years, but isn't rooting for America, Russia or Ukraine. She just wants to see the best athletes win. "Listen, I live right now in America, just for me interesting who has more power...for me it's sport who is more strong."
But not everyone's so taken with the Sochi Games. Down the block, Eddie Steeyan took a long drag on his cigarette and rolled his eyes. The manager of an ice cream shop called Sweet Delight, he said everything looks rosy on TV.
"It's nice, everything is beautiful nice, but the issue is the money," he said.
The Olympic games are estimated to cost $51 billion, making this year's winter games the most expensive of all time. Steeyan, 32, thinks that money could be used to feed hungry families in Russia.
"Better to help the family who doesn't have enough money to eat," he said.
At Tatiana Restaurant on the boardwalk, renovations of the decadent dining room are underway, while figure skating plays on a television. Bella Blinder, 65, helps run the family restaurant. She thinks President Vladimir Putin is spending big and using the games to brandish his global profile. She also said she wasn't surprised to see the news about shoddily-constructed hotel rooms in the Olympic Village.
Bella Blinder from Odessa, Ukraine, has been in New York for 38 years. (Stephen Nessen/WNYC)
"This is regular Russian style, no I'm not surprised," she said. "They call this Potemkin country...because they scared for Putin, they try to make outside it's nice; inside they don't care."
Others in Brighton Beach look on the bright side. Dimitry Abramov, 33, runs a pawn shop nearby and watches the games every night. The Volgograd native said the games are a refreshing reminder that the Cold War is over. As long as the hockey matches are good, he said, he'll consider the games a success.
"It's been a war: Canadians, Russians, Americans," he said. "Same goes for women's teams. It'd be nice to see Americans take it all, but as long as Russians and Americans make it in the top three, it'd be nice to see." 
The Olympic games play on TV at Tatiana Restaurant, in Brighton Beach, as well at cafes and barber shops in the area. (Stephen Nessen/WNYC)
Sofia Vinokuro, 65, is one of the owners of the Brighton Beach National Restaurant and Nightclub. She watches the Olympics every day: "So much money spent, you have to watch it." (Stephen Nessen/WNYC)
Jack Skolnick runs Jack's Barber Shop in Brighton Beach and watches the Olympics every day in his shop. (Stephen Nessen/WNYC)