New Yorkers Shrug Off Forged Restaurant Letter Grades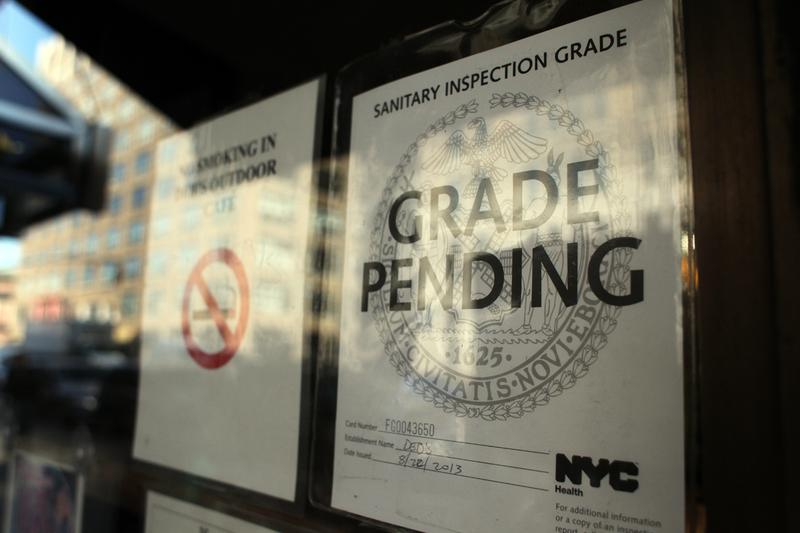 This week, much of the public trust that comes with high restaurant letter grades might have been lost. One man was arrested for distributing fake letter grade cards to nine city restaurants, and another two were arrested for trying to bribe health inspectors. But do New Yorkers care?
"Yeah, yikes, I don't want to think about that," said New York University student Peter Kang between bites of falafel at Mamoun's Falafel, which has an 'A' rating. He says he doesn't think about it every time he enters a restaurant, "but you notice when it's a 'B.'"
On Thursday, the city's Department of Investigations arrested Anastasios Kountis, the owner of Rapid Consulting, Inc, on multiple charges related to forged restaurant grades. Kountis, an expediter who represents restaurants in appealing Department of Health violations, hand-delivered an 'A' grade to Panini Grill on Staten Island, when in fact the Department of Health had issued it a 'C.' Another restaurant Kountis represented, Telly's Taverna in Queens, was given a 'B' from the Department of Health — but they hung a forged 'A,' given to them by Kountis.
Dashing out of a SoHo deli with lunch in hand, Hilary Hudgins said she doesn't care what letter grade restaurants receive. "I don't mind eating at B, C, D — if it's good food, I trust them. There's cockroaches everywhere in the city," she said.
The nine restaurants involved in the investigation are now posting the correct letter grades. Five of them have 'A's', three have 'B's' and one has a "Grade Pending."  
In an unrelated incident, two others were arrested for bribing Department of Health inspectors.