New Yorkers Share Memories of Philip Seymour Hoffman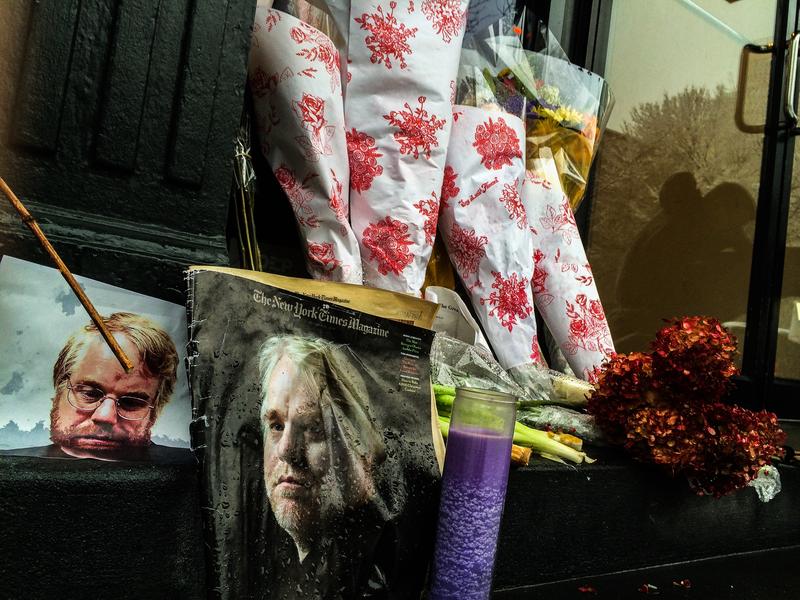 We asked our followers on Facebook to share their memories of crossing paths with Philip Seymour Hoffman in the city. The stories they shared are just small glimpses of his life, but they add a nice touch to the way we will remember a man who was not only an award-winning actor, but a neighbor.
Here are the memories we've collected, edited lightly for clarity. Please share your own in the comments.
"I saw him locking up his bike outside the Film Forum about a month ago. Just engrossed in conversation with a friend walking happily down the street, with no one bothering him. He had a big smile on his face and had a hearty laugh." —Lisa Wilkie
"Often saw him at Bar Pitti, Da Silvano, and getting take-out at Piccolo Angolo. He was a neighbor, a true Villager." —Richelle Lyndon
"As any true Villager knows, when it's 4 a.m. and you are trashed, you go to the Waverly Diner. And on just such a night myself and three friends did just that. Once seated in a booth, I realized that Phillip Seymour Hoffman was at the booth behind us. I leaned into my inebriated friends and slyly and quietly said, "GUYS THAT'S PHILLIP SEYMOUR HOFFMAN" to which one of our companions said "WHO?" We shushed our foolish pal up and ate our greasy spoon cuisine. The merriment continued unabated in what was surely a loud and drunken fashion and soon we forgot our Academy Award winning neighbor was even there. Mr. Hoffman got up to leave, put on his coat and turned to our table and just stood there and stared us down. Thinking our waiter had come back to the table we all turned and met his intense gaze. We all lost our celebrity staring contest within seconds and burst out laughing. He held his stern position at the head of the table, flung his scarf round his neck, and exited. Thanks Phillip for putting up with a bunch of drunk fools and leaving us with that memory." —Garth Schilling
"I didn't know him personally but I have friends who did. He felt like a neighbor, a fellow parent and New Yorker and lover of the city and the arts. And he was so incredibly talented. One of the several times we crossed paths in person was at BAM Harvey in 2012, he was a couple rows behind me clearly LOVING watching Simon Callow "Being Shakespeare." Such a terrible loss for everyone but especially his family." —Holley Atkinson
"I remember seeing him on Washington St. in the West Village a few years ago. He had on a big parka and seemed engrossed in whatever was on his headphones. He could have been a million other people." —Loren McMahon
"Saw him at Strand Books." —Max Doumanian
"I went to see "A View from 151st Street" and sat swinging my foot while conversing before the performance. Hoffman came out and just about face planted on my spastic leg. He caught himself, smiled, and went on to talk about the show (he was the artistic director). I, on the other hand, was mortified. But that's what made him such a great character actor-he had this awkwardness about himself that I admired. He was with us and accessible and real. I think about that when I stumble, trip and have moments of humility." —Teriscovkya Smith
"Saw him in 'Death of a Salesman,' it was an unforgettable, brilliant performance that will always haunt me but now for all the wrong reasons." —Siobhan Taaffe
"Philip Seymour Hoffman lived near the station, so I have three stories about him. 1) I saw him walking his daughter to school one morning. He was looking sleepy and wearing sweatpants, and you couldn't blame him. It was really early, 2) Another day, a bit later in the morning, he sat at the table next to mine at Once Upon a Tart for a brief meeting, and 3) I nearly creamed him and Ethan Hawke while wheeling a vibraphone for Soundcheck down WNYC's old Centre Street hallway. They were waiting to go on the Lopate show, and I had to be like, "Comin' through Mr. Hoffman! Excuse me Mr. Hawke! Gangway!" like an on-screen stagehand in a 1930s screwball comedy. Today is not the first time I've recalled these passing, fleeting moments with a giant -- they're three of my favorite moments from my life in this city. You were the best." —Joel Meyer, WNYC's Soundcheck
"Quintessential New Yorker, just everything we love about this place — his creativity and his amazing ability to portray the human condition. It's absolutely tragic. Even someone with that extradorary achievement grapples with the demon of substance abuse. We have to keep surfacing this reality in our society and getting people help." —Mayor Bill de Blasio on The Brian Lehrer Show