New Yorkers Skeptical About a Healthier French Fry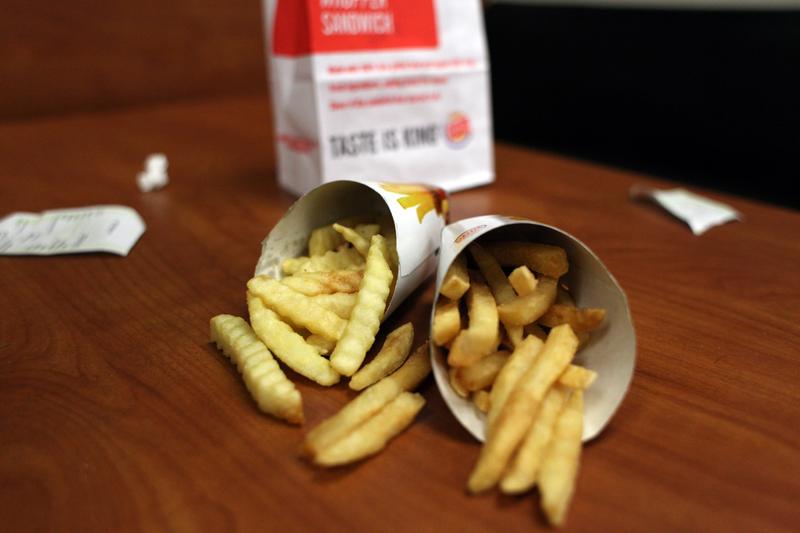 New York City has been a petri dish for aggressive public health campaigns. Now, one fast food chain is taking the initiative to make the french fry, the high velocity vehicle for salt and fat, a bit healthier. 
Burger King's new, crinkle-cut "Satisfries" are lower in calories than their standard fries. But fast food habits die hard. Just ask Canarsie resident Stella Taylor. "I'm not interested," she said, clutching a bag stuffed with a Junior Whopper and original french fries near the Port Authority. "If it's low fat or not, french fries are french fries. I don't care about saving a calorie on a french fry."
She's not even going to try them. A small order of "Satisfries" costs 10 cents more than a regular order — but has 30 fewer calories.
At a franchise on Fifth Avenue, Malia Frey, a weight-loss writer for About.com, conducted her own taste comparison. With an order of regular fries sitting next to an order of "Satisfries," she picked out one from each.
"They taste about the same," she said, after swallowing a crinkly fry. 
At the two-storey Burger King franchise near Port Authority on 42nd Street, regular customer Jacob Maysoned, 58, was dashing to catch a bus with a mouthful of the new fries, and fingers dripping ketchup. "It's very good," he declared, after swallowing. "I like this better because McDonald's is too greasy," he said.
That's good news to Marion Nestle, professor of nutrition, food studies and public health at New York University. "If we're going to change the food supply, these are the kind of changes that have to take place," she said.
But, she remained skeptical that something like "Satisfries" will help reduce the obesity epidemic. Burger King, after all, is also the creator of a three-patty calorie-packer known as the Triple Whopper, which crams in 1,020 calories.