Cheer and Loathing in Times Square: New Yorkers React to Trump Win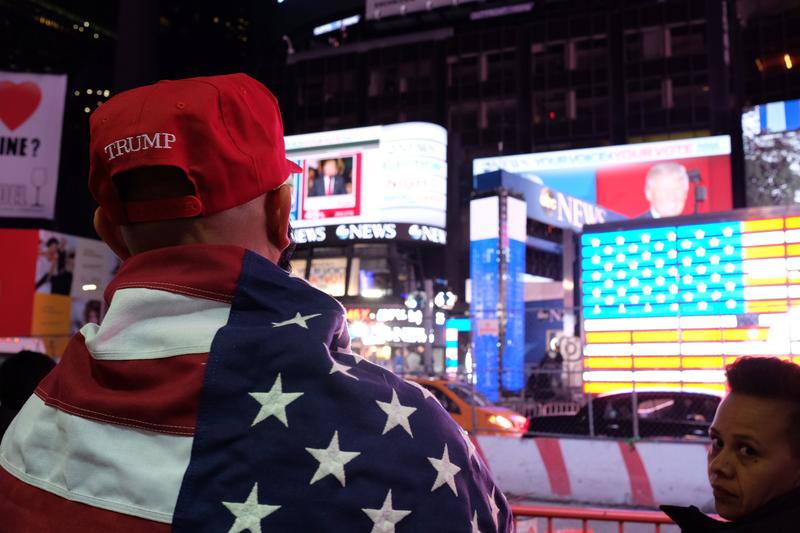 At the corner of Clinton and President streets, a very small crowd gathered to shoot photos and selfies with the cross street's sign. A row of white flowers were taped around the light post. A few Clinton banners tied to a string blew in the breeze.
"Somebody says it feels like the apocalypse; I'd have to agree with them. I don't know what we're looking forward to tomorrow," said Joanique Owens, from Bushwick. "I'm scared."
Owens has a 16-year-old daughter. "She was excited, woman for president, now what do you say to them when you wake up in the morning?"
Her cousin, Anjave Barnes, has a 13-year-old daughter and is thinking about four years of Donald Trump. "I've seriously spoken to my family about my options to leave the country. I'm not making a joke about it. I don't feel like this is the place I want to raise my child," she said.
Times Square was a gathering place to watch the returns roll in on big screens. But it was also where several arguments broke out between Clinton and Trump supporters. Sue Arenschield, from Valley Forge, Pennsylvania, took the overnight train into the city to be in the audience for Morning Joe Wednesday morning. She emerged from a heated argument with a Trump supporter feeling stunned.
"I've never felt this way, like I wanna throw up, I wanna cry," Arenschield said. "I'm just in disbelief, my head is pounding. I just—the hate."
While Donald Trump held his victory party at the Hilton hotel in midtown, his supporters gathered outside to wave Trump flags and chant slogans from his campaign.
"I'm really happy tonight, I had faith in it the whole time," said Samantha Orlando from Staten Island. "I've been following the election since the primaries when everybody laughed at him. I just felt something in his message."
Others, like Robert Lewis, 56, from Sheepshead Bay, said he thinks if Trump makes good on his campaign pledges, he'll be happy. "If he sticks to his promises, which I think he will, or at least most of them, because you have to be realistic, we're going to be in much better shape in this country," Lewis said. "We have so much wealth and so much promise, we have great people here in this country."