New Yorkers Mourn Mandela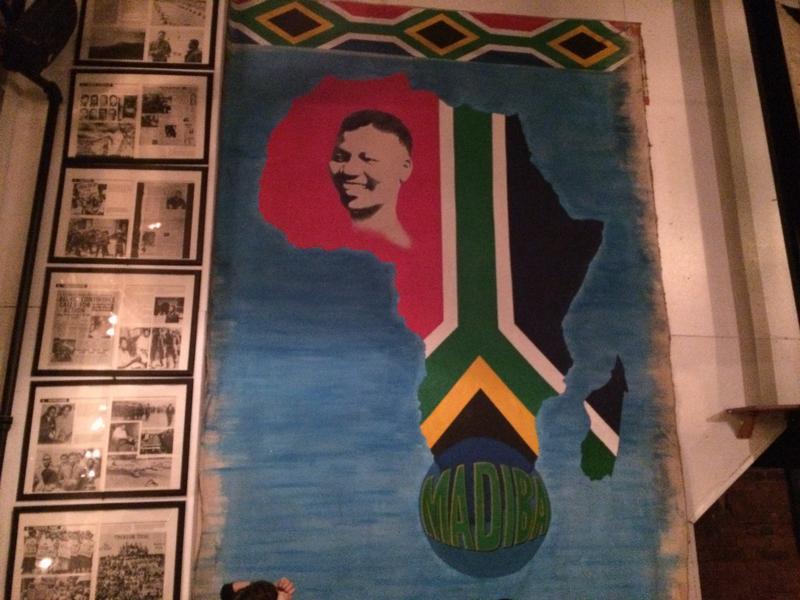 New Yorkers from the statehouse to the streets mourned South African anti-apartheid leader and former president Nelson Mandela after his death on Thursday.
Regular customers streamed into Madiba, the Fort Greene restaurant named in his honor (Madiba was Mandela's nickname in South Africa). They hugged general manager Denis Dupree, who told WNYC's Stephen Nessen that that the news hit him "like a ton of bricks." 
Mandela "made something beautiful for so many people . . . especially for the people that are underprivileged, he's brought in a sense of faith and left a legacy," he said.
One patron, Woody Martin, said there was nowhere else he would rather be.
"I heard it and I go like, 'Oh my god. I have to come over to Madiba with family and, I don't know, just share in the love."
Another customer, 95-year-old Thabiso Phokempe, who was originally from South Africa, expressed a similar sentiment. "It's been a long time coming, but the impact of it, it really shocked me. And i just couldn't go home."
Elsewhere in New York, politicians issued statements of grief and remembrance. Gov. Andrew Cuomo, who was once congratulated on his wedding by Mandela in a historic speech, directed that flags on state government buildings be flown at half-staff on Friday in Mandela's honor. "Nelson Mandela refused to accept injustice, fought relentlessly for what was right, and showed that a dedicated person of courage actually can change the course of history . . . . While President Mandela is no longer with us, here in New York and all around the globe, his legacy lives on," his statement said.
Mayor Michael Bloomberg called Mandela "one of the most transformative and influential figures in modern history." He noted that the 1990 ticker-tape parade thrown for Mandela by then-Mayor David Dinkins
"was a great moment for our city, and his visit here in the immediate aftermath of 9/11 helped give our city strength and hope. When I presented Nelson Mandela with the Key to the City in 2005, he spoke passionately about the work of his foundation and his ongoing efforts to tackle the HIV/AIDS epidemic and many other important issues."
He said that flags at City Hall would also be lowered to half mast.
Mayor-elect Bill de Blasio also weighed in:
"For so many of us, the fight for a free South Africa became the rallying cry of our generation. It brought us together, and inspired us to confront oppression abroad -- and also here at home. "Just months after being released from 27 years of political imprisonment, Nelson Mandela came here to New York City. I will never forget hearing his words at Yankee Stadium, where he told New Yorkers, 'You the people, never abandoned us.' We came to believe in his fight for justice and democracy as if it were our own. Our values and activism helped us work toward justice in South Africa, and thereafter in many other parts of the world."