SchoolBook
Doors Open to New School Year for NYC Students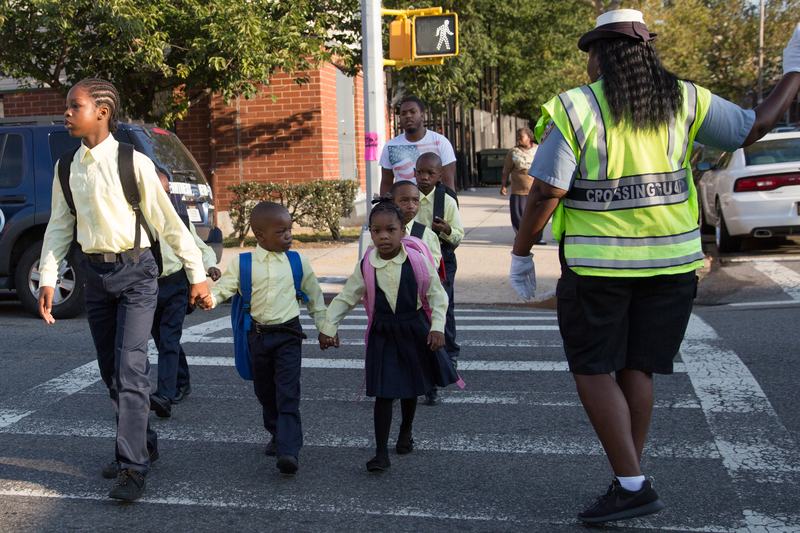 We want to hear from you on these first days of school. Share your photos and impressions with WNYC by using #BackToSchoolNYC.
A sunny, hot day greeted New York City families bringing children to school for the first day of the 2016-17 year. So did old friends, new faces and back-to-school jitters.
Mayor Bill de Blasio and Schools Chancellor Carmen Fariña on Thursday kicked off their parallel five-borough tours at I.S. 392 in Brownsville, Brooklyn, to highlight a new program called Single Shepherd which will pair school counselors or social workers with middle- and high-school students in two school districts: District 7 in the South Bronx and District 23 in Brownsville. 
"From now on you are going to get special help fulfilling all your dreams," Farina told the I.S. 392 students.
While public officials were busy highlighting different education initiatives, most New York students were wracked by first-day jitters and excitement. At P.S. 176 in Brooklyn, Benjamin Caffarille started kindergarten.
"I'm excited!" he declared, as his mom listed all the supplies he was bringing to school, including paper towels, wipes and copy paper for the teachers.
For Katherine Perez in Bedford-Stuyvesant, Brooklyn, it was about starting over. She's entering the sixth grade at P.S. 262.
"Well I'm a bit nervous because it's my first time in this school," she said, adding "I'm excited because I might meet new people and maybe someone will relate to me." 
The mayor was planning to visit a pre-kindergarten program at P.S. 161 in Queens. This year, 70,430 children are registered for free, full-day pre-k, up from 65,504 children registered at this time last year. And, to highlight partnerships with charter schools, de Blasio was headed to the KIPP Infinity Charter School in Manhattan. 
To finish up, he and Fariña were scheduled to meet up on Staten Island, at Port Richmond High School, a community school with a new health center, food pantry and other services. It's also the first dual-language high school in Staten Island.
School crowding remained an issue in parts of the city. At Brooklyn's P.S. 176, principal Liz Culkin said she once again had nearly 1400 pupils. That meant her Dyker Heights building was at more than 150 percent of capacity, despite a rezoning effort last year that was supposed to reduce its enrollment. She said that means another year without dedicated space for dance and art.
"Where other schools have classrooms for the arts programs we don't, we actually have to lug all the materials around," she said.
The Department of Education said it still anticipates enrollment will go down at PS 176, and at other crowded schools, by adding a total of more than 44,000 seats in the next three years. It pointed to eight projects alone in District 20, which includes Dyker Heights and Bensonhurst, to support the creation of 4,869 new seats.