Dems Hope to Take Back New York State Senate By Way of Long Island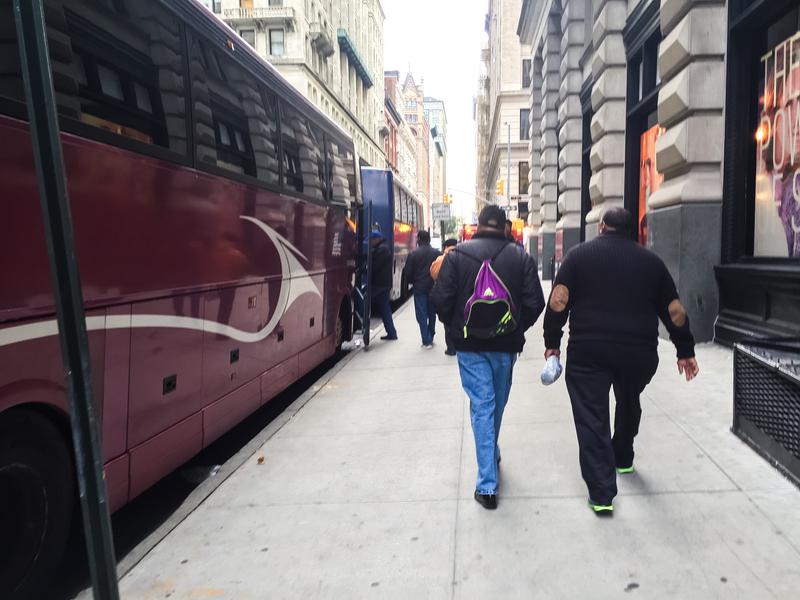 This year, the Senate races on Long Island are among the most watched in the state as Democrats try to unseat Republican incumbents and challengers.
To that end, more than 60 union members and Democratic activists from New York City headed by bus to Long Island last weekend to spread their message to voters. They boarded two full-sized buses rented by the Working Families Party and met up with a few dozen local activists.
The buses traveled from the union offices of 32BJ SEIU in Manhattan to Elmont, Long Island. The town is represented in the state senate seat by incumbent Republican Jack Martins, who is leaving to run for Congress.
"We need to take back the Senate. I'm so sick of it. Twenty years, we can't get anything done because of nine [Republican] Senators on Long Island," said local resident and canvasser Mimi Pierre-Johnson.
Technically, the Democrats already have a majority in the State Senate - 32 Democrats, to 31 Republicans. But it's a numerical majority only because five of those Democrats have created their own faction known as the Independent Democratic Conference, and they often vote with the Republicans. That alliance has allowed the GOP to maintain control of the chamber. But now that could change.
The Democrats believe they have several advantages this year, if they can win key races like this in Long Island, and seize on vulnerabilities in the GOP ranks.
Among those vulnerabilities, they say, is the unpredictability of having Donald Trump's name at the top of the ticket; the recent arrest of Nassau County Executive Ed Mangano -- one of the state's most powerful Republicans -- on corruption charges; and the changing demographics on Long Island.
More Democratic-friendly immigrants and people of color have moved in, while older people who reliably voted Republican have moved out or passed away.
"[Republicans] are basically coming up against what we call demographic destiny; there are very few ways to draw nine districts on Long Island and have them be reliably or overwhelmingly Republican," said Lawrence Levy, executive dean of the National Center for Suburban Studies at Hofstra University.
Progressive issues like criminal justice reform and the Dream Act resonate with these newer Long Island residents, just as they do with New York City Democrats.
"I live in Manhattan and this is important to me because we want Democratic representation, you know, on the Senate, that's the goal today," said volunteer canvasser Nestor Medina.
Evan Stavisky, a consultant for Democrats, said for decades, the Senate was controlled by the so-called "Long Island Nine," the nine Republican Senators who held all the seats. But Long Island Republicans suffered a blow after former Senate Majority Leader Dean Skelos was convicted along with his son, Adam Skelos, on federal corruption charges. Then last month, another high-ranking Republican, Nassau County Executive Ed Mangano, was arrested on corruption charges. It was another blow to the party.
But GOP strategist Bill O'Reilly argues it's a bad idea for one party to control all three chambers. The governor is a Democrat, and Democrats hold a solid majority in the 150-member New York State Assembly. O'Reilly said if the Democrats also take over the Senate, they will impose a New York City agenda on the rest of the state.
"New York voters are not helped by a monolithic legislature where there really are no checks ... where the city Democrats are driving through everything," he said. As part of their strategy to fend off the aggressive push by Democrats, they're sending the message that a Democratically-run Senate, is really a Senate run by New York City Mayor Bill de Blasio. It's a message they're playing on social media, and in campaign ads.
A Democratic majority, however,  doesn't guarantee that New York City can unleash their agenda on Albany. The Democrats are not a monolithic bloc. For his part, Cuomo has benefitted from the divided Senate – it allows him to play one side off the other during negotiations. And his rivalry with Bill de Blasio is well-known.
But that hasn't dampened enthusiasm from Democrats.  The campaigns, labor unions and activists are pouring hundreds of thousands of dollars into the Senate races, and sending busloads of volunteers to knock on Long Island doors.