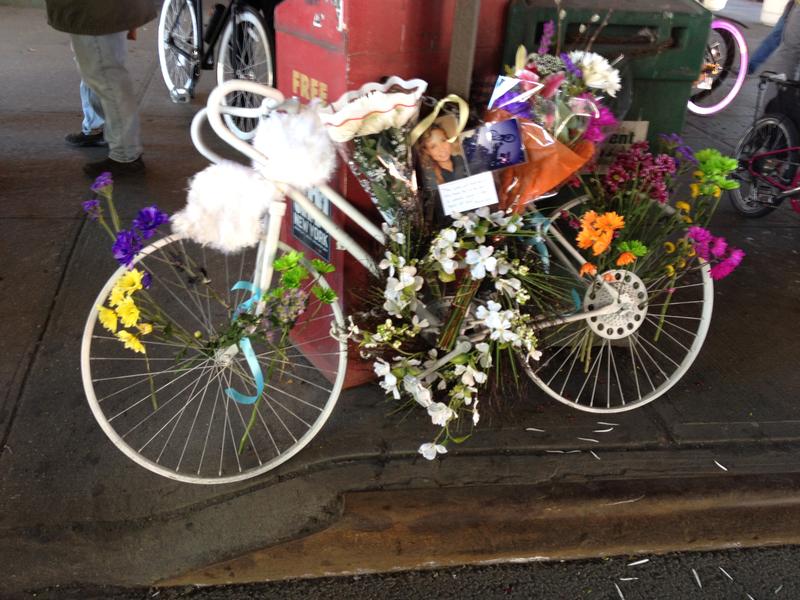 Among major American cities, New York has the sixth-lowest fatality rate for cyclists and pedestrians. That's according to a massive new report on national biking and walking trends. Cities with lower fatality rates were Boston, Seattle, Washington DC, Colorado Springs and San Francisco.
"Overall, the trends are looking very good," says Jeffrey Miller, executive director of the Alliance for Biking and Walking, which issued Wednesday's report. "We are seeing improvements in the policies, the types of infrastructure, the funding and the levels of biking and walking across the country, in nearly every city and state."
Traffic fatalities are down nationwide, Miller says, including those for cyclists and pedestrians. But cyclists and pedestrian deaths are declining more slowly than those for the occupants and operators of motor vehicles. That's why cyclists and pedestrians make up an increasing share of all traffic deaths, even as the overall numbers go down.
In New York City, pedestrians accounted for more than half of the 60 people killed in crashes so far this year. "Cars are engineered to be safer with more airbags from every possible direction," Miller says. "We don't have that."
Miller says the disparity in death rates also reflects spending priorities. Nationally, just over two percent of federal transportation funding went to bicycle and pedestrian projects, according to the report. In New York, Mayor de Blasio has committed to improving traffic safety, but details on the funding for his Vision Zero plan have been scarce. 
Miller contends that encouraging biking and walking is an investment in disaster preparedness because, after both Sandy and 9/11, people walked and biked when transit systems shut down. "The more we can make that part of the infrastructure," he says, "the more resilient New York and other cities are going to be."
Many New Yorkers already walk to work: the city ranked third behind Boston and D.C. in the rate of pedestrian commuters. But New York ranks a mere 26th among major cities for bike commuting. Less than one percent of commuters in New York bike to work, a lower percentage than even Los Angeles. 
But those stats come with a major footnote. Miller admits they don't fully reflect the actual experience of moving through New York because the report is largely based on federal census data that only asks about commuting trips. In New York, more than 80 percent of trips are non-work excursions, according to the city Department of Transportation. That means stepping out for errands, picking up children from school, taking a stroll, going to eat. Those don't get counted.
"We need better data," Miller said. Many states and cities, including New York, are doing their own counting, but there's no standardized methodology, making comparisons tricky.
New Yorkers also often use more than one kind of transit in a week, or even in a day. People bike to the train, or walk to the bus. People bike one day and walk the next. Census data only counts their most common form of transportation. New Yorkers don't tend to bike to the bus, though, and the report has one explanation: we're the only major city where buses don't have bike racks.
Other tidbits from the report:
- Pedestrians in major American cities are pretty evenly distributed across race, age, gender, and income level. Cyclists, on the other hand, skew male, and young. Less than a quarter of all bike trips are taken by women.
- About 13 percent of Americans ride a bike at least once a week. Two percent took a trip a day.
- Far fewer kids bike or walk to school than they did 40 years ago. The report compared data from 1969 and 2009, and found that in the late 1960s, almost half of kids walked or biked to school. Just 12 percent took cars. By 2009, those numbers had almost flipped, with 45 percent of kids being driven to school, and 13 percent walking or biking.