New York Rangers Fan Club May Be Gone, But Fans Remain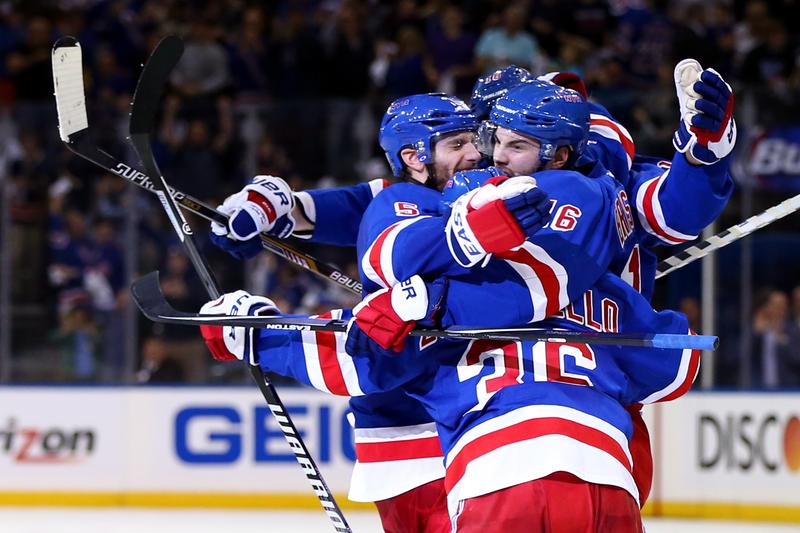 The New York Rangers have another chance tonight to make it to the Stanley Cup Finals. Cheering them on will be some long-time members of the New York Rangers Fan Club.
The club formed in 1950 and for years was a visible presence at games.
"The fan club had a very close relationship with the team because in those days the aura of hockey players was not as it is now," said Stan Fischler, a hockey historian and analyst who was a charter member of the club. "Some hockey players now are practically cartels they're so rich. And these were down to earth guys who were making $7,000 — $8,000 a year if they were lucky."
The club hosted trips to away games, hung signs through the stadium to cheer on the team and even had social events like an annual dinner dance with players.
At its peak, the club had around 2,000 members, said Debbie Rockower, former-president of the club, who has had season tickets to Rangers games since 1972. It was a tight-knit group, she added.
"I think all of those years of not winning brought the fans closer together because we all had in common that same desire to see them win the cup," Rockower said.
The club was also close to the players. Rockower said after 9/11 she got a call from Rangers-great Barry Beck who wanted to make sure she was OK.
Beck now coaches a hockey program in Hong Kong. In an email, he wrote that he often thinks about the club.
"When I was first traded to the Rangers I attended the annual fan club dinner. For me it was a new experience. Teammates had warned me before to watch out for the slow dances as most attendees are women. It was all in good fun and I did get on the dance floor a few times. The adult beverages certainly helped," Beck wrote WNYC. "The game has changed now. It is difficult to get close to players. I guess not as many slow dances now. Social media has changed everything."
After 54 years of futility, the Rangers finally won the Stanley Cup in 1994. Rockower said that was the beginning of the end for the club. In the years that followed, the team stopped supporting the club as much as it had, she said. The club no longer holds meetings or organizes trips.
"We used to send a newsletter once a month to the fan club members and the Garden used to let us bring it over to the mailroom and they would mail it out for us and save us a lot of money in postage," Rockower said. "Then all of a sudden one day, they brought it over and they said they couldn't do it anymore...The whole culture just changed."
That's not just a New York story. Colleen Coughlin, president of the NHL Booster Clubs – an umbrella organization for fan clubs across the country, said that in her role running the booster club for her local St. Louis Blues hockey team, she's had a similar experience. "Our link to the club has declined a lot like many other clubs," Coughlin said.
She says players just have more demands on their time. And many teams are running their own trips and promotional events that in the past were organized by fans.
"It's just unfortunately the nature of the growing popularity of our sport," Coughlin said.
That popularity will be on full display Thursday night when Rangers fans — club or no club — try to push their team closer to the Stanley Cup.
The email below is from Barry Beck to WNYC:
From: Barry Beck 

Sent: Tuesday, May 27, 2014 9:50 PM

To: Robert Lewis

Subject: RE: Interview request

 

When I was first traded to the Rangers I attended the Annual fan club dinner. For me it was a new experience. Teammates had warned me before to watch out for the slow dances as most attendees are women. It was all in good fun and I did get on the dance floor a few times. The adult beverages certainly helped.

Through the fan club I got to meet some good friends. Most are diehard Ranger fans so you have to be cooperative with them or they'll kill you!!

I always enjoyed when they travelled up to Montreal to watch us play the Canadians. It's always a good feeling to have support on the road so the guys always looked forward to that trip. We would talk in the dressing room before the game and tell each other to look after the fan club. If they get in any trouble make sure we help them. Usually that meant we'd have to climb

50 rows up to the top of the forum where they were seated. We would have gone if needed. If that would have happened they'd still be talking about it!

The game has changed now. It is difficult to get close to players. I guess not as many slow dances now. Social media has changed everything,

I always looked as the fan club as being like your core group of players on the team.

You need them to be strong and have to respect them

Yes I miss [those] who supported myself and the team as they do till this day.

I think of them often and enjoy the memories as the years go by.

Regards,

Barry