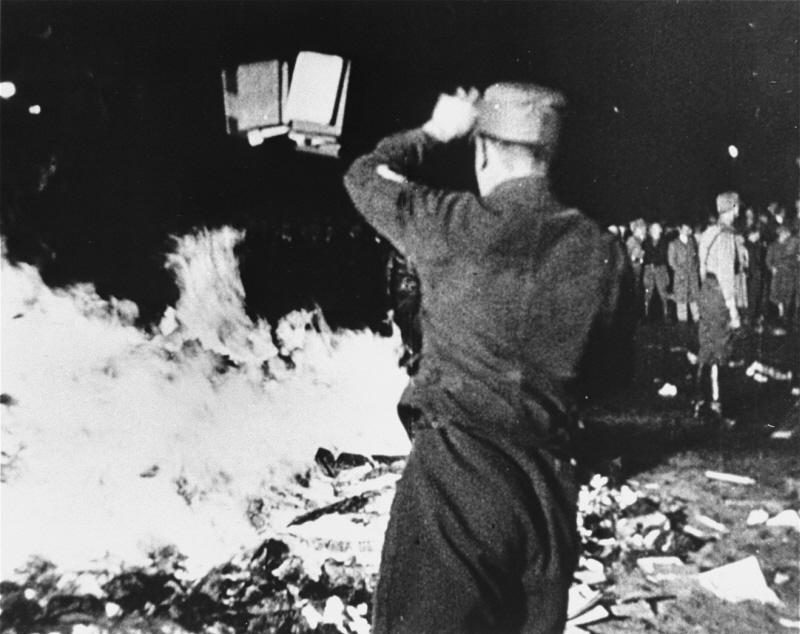 This episode is from the WNYC archives. It may contain language which is no longer politically or socially appropriate.
Ceremony at New York Public Library to commemorate the opening of an exhibition to mark the banning and burning of books in Nazi Germany.

WPA War Services Band plays "America." Clifton Fadiman hosts. Exiled authors in attendance: Ambrogio Donini of the L'Unita del Popolo; Bavarian novelist Oskar Maria Graf; Danish novelist Madame Karin Michaelis; and others.

Stanley Isaacs speaks about Hitler. Alfred Kantorowicz, of the Burned Books Library, and Franklin F. Hopper, of the New York Public Library, talk about the exhibition. Newbold Morris, speaking for the Mayor, talks about the importance of the public library system -- the first line of defense against tyranny, an assurance that our bill of rights will always exist. Das Kapital and Mein Kampf are all available in the library. The buying of war bonds and stamps is the least we can do: we're doing ourselves a favor by putting our money in the people of the USA. Books are symbolic of freedom and learning.

Morris asks the audience to step up and buy bonds and stamps. Reporter describes the scene, a dummy book being burned on the stage as a sign of German hatred.
Audio courtesy of the NYC Municipal Archives WNYC Collection
WNYC archives id: 69814
Municipal archives id: LT897