'They Know Everything': Mixed-Status Family Prepares for Trump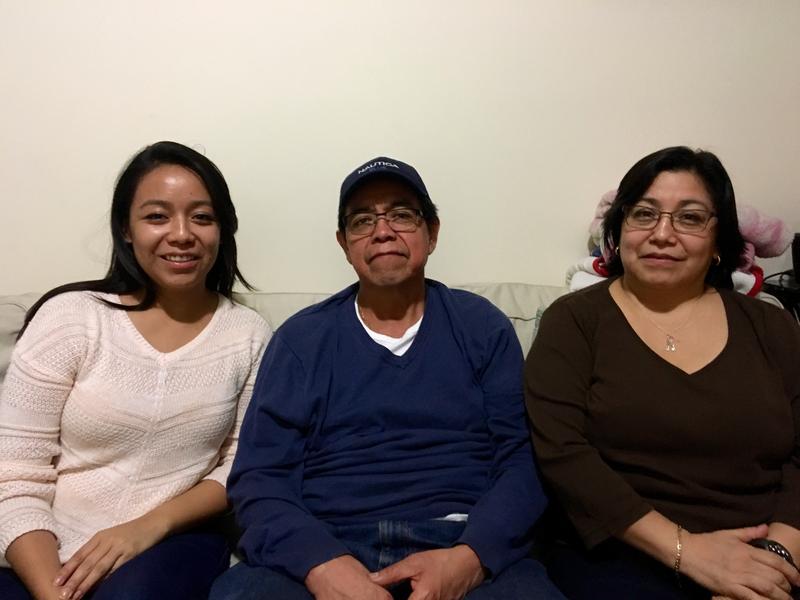 When 27-year-old Shareny Diaz Saldaña talked recently about her fear of deportation, her voice quivered and her eyes filled with tears. She tried, unsuccessfully, to hide it from her parents who sat next to her on a couch in her Bronx apartment.
"I think my dad feels guilty for bringing me here so I try not to make him feel guilty about it because it's not his fault," she said. "I'm very grateful that I'm here regardless of my legal situation."
Patricia and Juan Diaz brought Shareny to New York City from Mexico on a tourist visa when she was just a year old, in 1991. They came to visit family but ended up staying because of the opportunity to make a better living here.
And her dad does feel guilty. "I feel like I've cut off her wings," he said.
Like many families, theirs is mixed status: Shareny's dad is a legal permanent resident; her mother is undocumented; her brother Kevin Brian is a U.S. citizen, and Shareny is undocumented but protected from deportation under President Barack Obama's Deferred Action for Childhood Arrivals program, known as DACA, which also gave her a work permit.
When Shareny applied for DACA, the policy specifically said that the information applicants send the federal government would not be used to deport them. But in an email a spokesperson for U.S. Citizenship and Immigration Services said that policy "may be modified, superseded, or rescinded at any time without notice."
Now, Shareny and about 740,000 other undocumented immigrants who received DACA are coping with the reality that their information is in the hands of President-elect Donald Trump, who has vowed to "immediately terminate" the program and deport millions.  
"They know where I live; they know where I've lived before; they obviously know my workplace; they know my mom's information as well since she petitioned to fix her status. They have everything," Shareny said. "And now with Trump, it's not a fear of them coming to my house or taking me. It's a fear of getting that letter in the mail basically saying that you have a trial, or you're expected to leave the country."
Why Groups Want DACA to Expire
Groups that want tighter controls on illegal — and legal immigration — want the DACA program to end because it would take away work permits for young undocumented immigrants, which Obama issued without the approval of Congress.
"Some of them will find work anyway because employers will just hire them illegally. But, yeah, they won't be authorized to work," said Mark Krikorian with the Center for Immigration Studies, a think tank often critical of Obama's immigration policies.
He doesn't want undocumented people to be able to work in the U.S., "because it's illegal," he said. "That's kind of the point."
But City University of New York Law Prof. Allan Wernick said it's no accident that there are 11 million undocumented people in the country. 
"We've closed our eyes to the people coming across the border. We've employed these individuals in agriculture, construction and many other industries," he said.
It Costs $10,000 to Deport One Person
Wernick offers free immigration law services with the group CUNY Citizenship Now. He's encouraging undocumented immigrants to apply now for any immigration status they might be eligible for, before it gets harder.
"My expectation is that Trump administration will seek legislation which will make it more difficult for individuals to get permanent residency and perhaps even make it more difficult to get U.S. citizenship," Wernick said. "But the law that exists today is nevertheless the law. And only Congress can change that."
He also said DACA recipients who were given permission under President Obama to travel abroad should return to the U.S. before Inauguration Day.
In an interview with TIME Magazine, Trump implied he wanted a path forward for young people who were brought to the country by their parents, known as Dreamers. But the president-elect's website still says he would "immediately terminate" Obama's directive.
Either way, Shareny, who is in her second year in a master's program in public administration at CUNY, said this was not just about Dreamers.
"Sometimes I get really frustrated with the whole Dreamer movement," she said. "I feel that a lot of the stories that we hear about Dreamers are these perfect students. But we forget about our parents. And our parents are the original Dreamers. We wouldn't be here without them."