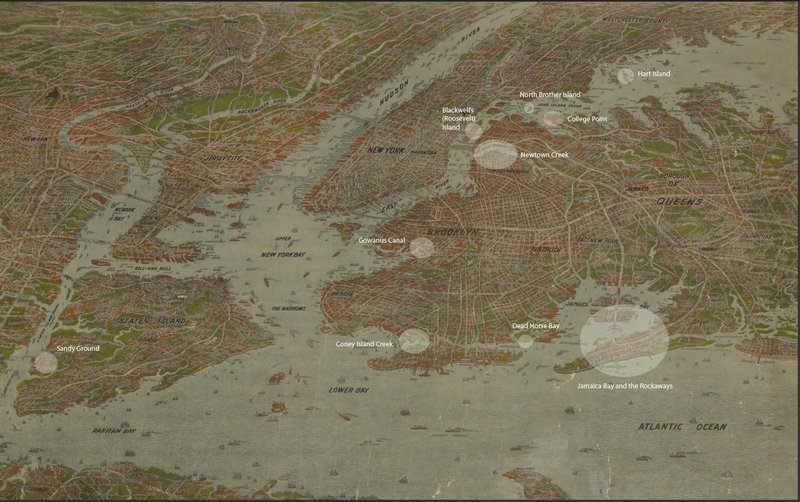 Waterfront space in New York City is typically thought of as long promenades and vertical development opportunities, but within those 600 miles of coastline is a history that is marked by the ebb and flow of growth and industry.
Elizabeth Albert, visual artist and associate professor at St. Johns University talks about New York City's lesser-known waterfront spaces in her upcoming book, Silent Beaches, Untold Stories: New York City's Forgotten Waterfront  (Damiani, 2016). The book is a combination of art, poetry, historic photography, essays, and short stories about New York City waterfronts.
We've featured a few of the historical images side by side with accompanying artists' works below:
Hart Island
Hart Island, New York City's still-active potter's field, where The Department of Correction estimates that more than a million of New York City's unidentified and unclaimed people have been buried, with 1,500 arriving annually. Since 1869, the dead have arrived here in plain wooden boxes to be buried by Riker's Island inmates.
Blackwell's Island
In the late 1800s, Blackwell's Island was associated with poor conditions, drug abuse, and scandal. To shed light on the inhumane conditions, a young journalist named Nellie Bly committed herself to the Blackwell's Island Lunatic Asylum. Her articles changed the standards for mental health care.
Actor Mae West also briefly lived on the island when she was sentenced to ten days in the women's workhouse for giving "an obscene performance of the play Sex."
Sandy Ground
Sandy Ground, one of the earliest free black communities in the nation, who emigrated from Maryland to make a living through oystering and strawberry farming. It is rumored to have been a stop on the Underground Railroad.