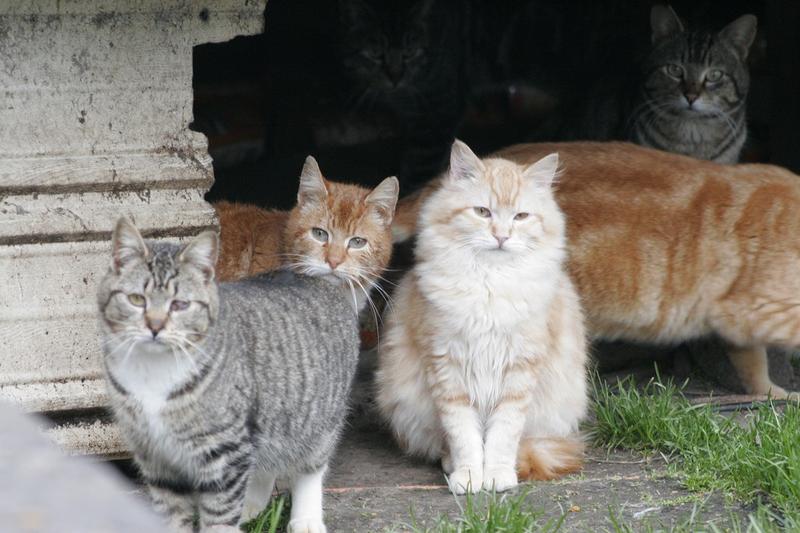 Trap-Neuter-Return is a non-lethal method of controlling New York City's feral cat population. Jane Hoffman, president of the Mayor's Alliance for New York City's Animals, talks about the New York City Feral Cat Initiative and the feral cat colonies across the five boroughs.
NYC Feral Cat Reference Sheet
What is a feral cat? The term "feral" refers to cats that live outdoors and haven't been properly socialized to human beings.
What's the problem? There's just too many of them, and they continue to populate! The rule in New York State is domesticated cats and dogs must be spayed/neutered, but feral cats aren't regulated under state law.
So what can we do about it? Various organizations offer free workshops to teach people how to properly care for feral cats using the Trap-Neuter-Return (TNR) method - there are over 5,000 TNR volunteers across the city. TNR involves humanely trapping a cat, having it spayed/neutered and vaccinated, clipping its left ear under anesthesia to signal that it's been cared for, and returning the cat to where it was found. Find out where to take TNR classes here.
Why return them to the streets? Isn't the point to reduce their numbers? Lots of cats that end up in animal control shelters end up being euthanized. Jane Hoffman from the Mayor's Alliance says it's best for the cats to return to patrolling the neighborhood and providing non-toxic vermin control.
Why can't we try to domesticate them? Sometimes we can! If a trapped feral cat is determined friendly by a vet, it can be put up for adoption. The younger the better – kittens under 8 weeks old can still learn to be socialized.
I know/love/care for a feral cat, but I think it needs veterinary attention! What do I do? Email info@AnimalAllianceNYC.com. They can send a trapper over and make sure your feline friend gets treated.
For more information visit The New York City Feral Cat Initiative website.