SchoolBook
Theme High Schools Long to Find the Most Interested Applicants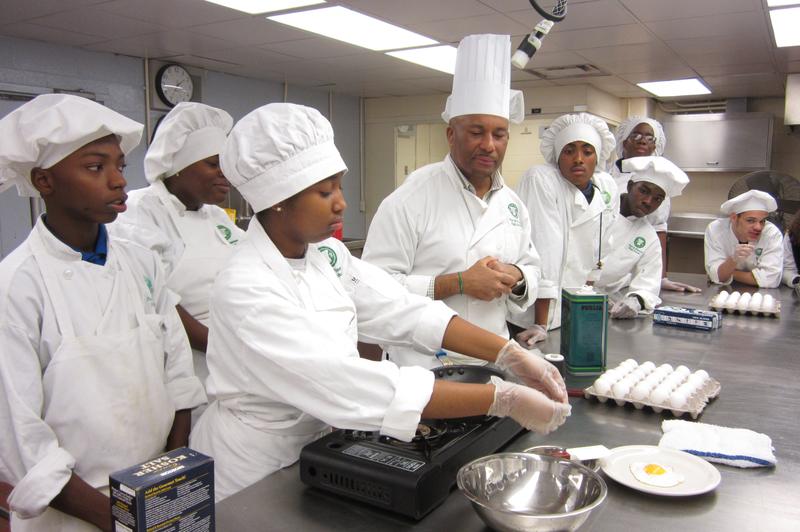 On paper, 13-year-old Chayil Hyland Seems like the perfect candidate for Food and Finance High School, a small school west of Midtown Manhattan where about 400 students take cooking classes with professional chefs. The eighth grader from Queens was making three-course meals for her family when she was 11 years old.
"I made stuffed bell peppers with mozzarella cheese. I made chicken Alfredo," she recalled.
But even though she is ranking the school as her number one choice on her high school application, she could actually be bumped out by a student who ranks the school much lower down and might not even want to attend.
The Department of Education frequently boasts that 75 percent of eighth graders get one of their top three choices for high school. That sounds impressive for a system handling about 75,000 applications each fall. But teachers and principals at small schools with special themes told WNYC they wind up with students each year who don't want to be there, while some who really do want to attend aren't accepted.
"Every year I get dozens of emails from people begging me to get into the school, asking me why they didn't get in," said Nan Shipley, who chairs the board of a fund that supports Food and Finance. "That's the question I would like to have answered."
The Matching Process
The city's high school matching process relies on an algorithm designed by a Nobel-prize winning economist. Eighth graders are allowed to rank up to 12 choices when they apply to high schools. Student preference does count, but it's not the only factor. Most schools get more applicants than seats. In those cases, the city also uses what is essentially a lottery system.
About a third of the city's 700-plus high schools and programs use an academic screening system (not including the specialized high schools which rely on a single test). This narrows the field, allowing them to weed out kids who don't meet the minimal threshold. Students who most closely match the school's qualifications get priority, even if they ranked the school number five or 10.
But most schools don't use academic screens. These include hundreds of small schools and programs with special themes such as design and construction, culinary arts, advertising and health sciences. At these schools, which the city calls "limited unscreened," administrators don't have any choice in picking kids like Chayil Hyland who most want to attend. The city gives priority to every child who attended an open house or signed the school's form at a high school fair (hence, "limited unscreened"). Those kids are then chosen by random lottery, meaning the ones who are matched first may have given the school a lower ranking than others who are matched later. 
City officials said this prevents kids from gaming the system. Amy Basile, director high school admissions at the Department of Education, noted that if schools only took kids who ranked them number one, that would hurt students who didn't get in because their second choice school could say "no, we prefer kids who rank us as number one."
A Better System?
Several principals and school staffers at the small schools with themes told WNYC they'd like some way of refining this system.
Upstairs from Food and Finance is The Urban Assembly School of Design and Construction. It's not as popular as the culinary school, getting about three applicants per seat versus 16 per seat at Food and Finance. Principal Matthew Willoughby said he gets a bunch of kids each year who love architecture and design, but many more did not make the school their first choice. He wonders if there could be a way for the admissions system to indicate students who have "gone above and beyond" in expressing their interest. 
Rashid Ferrod Davis, principal of Pathways in Technology Early College High School, or P-TECH, also wrestles with that problem. His small, celebrated school in Crown Heights has a partnership with IBM; students can earn an associates degree. But Davis estimated just about 50 percent of his incoming students ranked the school among their top three choices. A lot of them also come in well below grade level.
"I don't mind students who are low-performing coming out of middle school changing habits and behavior to finish high school," he explained. "But I want that to be coupled with interest."
He suggested piloting an interview process for applicants. Board members at Food and Finance asked the Department of Education for an interview system, but they were rejected. Chef Geoff Tulloch, who teaches juniors at the school, acknowledged legitimate concerns that schools might screen out special education students or low-performers. But he firmly stated that his school only wanted to gauge student interest, because some kids get the wrong idea.
"There's a bit of a misconception that when they come here somehow they're going to be fed lunch, based on what we cook every single day in the kitchen," he explained. He said many applicants also don't realize they'll have to learn a lot about safety and hygiene to work in a kitchen not to mention wash a lot of dirty dishes.
Benjamin Grossman, principal of the Bronx Academy for Software Engineering, said his school asked the city for a better screening system to fix its gender imbalance because most of his students are males, but nothing happened. He acknowledged additional changes could be challenging.
"It's a slippery slope and once you open door to screening, it's temping to pick the students that would yield numbers" for graduation, he said.
We asked the Department of Education why it's resisted attempts to tweak the system. Devora Kaye, a spokeswoman for Chancellor Carmen Fariña, said there are already enough schools with screens.
"We believe that students choosing to rank a school high on their list is an important signal of their interest, and at this point we are working with high schools to make it easier for all our students to apply to a range of schools," she said. This includes helping schools refine their recruitment techniques and adding a more user friendly search tool.
Student Engagement
In truth, most small schools with themes were never intended to be true career and technical education schools like Aviation High and Transit Tech - older institutions that do screen for academics. Instead, the new schools with themes were meant to replace large, failing high schools by engaging struggling students in a more personalized setting. Overall, they do have higher graduation rates than the schools they replaced.
But they have very different approaches to their themes. While Food and Finance requires all students to take two periods a day of cooking, and is a career and technical education school that offers a certificate, other schools go lighter on the theme and provide more options for students.
Principal Willoughby, at Design and Construction, said ninth and tenth graders take daily three dimensional art and design classes, but older students have more freedom. "The theme can be useful in helping them to get excited about what they do here," he said, noting that many come in with poor attendance records and low grades. That's why he said his school hired additional social workers and mentors. His four-year graduation rate is 62 percent, but he said it's six year rate is about 80 percent.
At the Bronx High School for Medical Science, which is one of six schools in the old Taft high school building, principal William Quintana takes a similar approach. Even though his school does screen for academics, he said the matching process gives him many students with less impressive records and he's glad for the mix. The school emphasizes basic coursework before introducing the medical and science theme.
"To the eyes of a kid, it's a boring school," he said, acknowledging some aren't happy when they arrive. But his four-year graduation rate is almost 95 percent and 83 percent enroll in college or career programs. 
Nonetheless, Quintana noted that every theme school is different. Some have strong ties to local industries and are more career focused. Likewise, some 13 year olds are much more motivated than others around an area of interest. And not all kids have equal access to guidance counselors and other knowledgeable adults when applying to high schools.
This is one reason why studies by the Independent Budget Office and N.Y.U. found even though most students do get one of their top choices, kids with poor grades wind up being concentrated in schools with low graduation rates.
P-TECH principal Davis said the city should take a new look at the application process to ensure more equity. His school was designed to help underrepresented minorities enter the tech field, and the majority of his students are black and male. Blacks and Hispanics, on average, have lower achievement scores than whites and Asians, and boys often perform lower than girls.
Davis thinks the city should break down the graduation rates at each high school according to race and gender so parents can see "the intersections of gender and ethnicity, and this is why outcomes are the way they are."
Otherwise, he said, kids and families don't have enough information to take full advantage of so many choices.