Studio 360
New Year's Resolution: Canvas In The Kitchen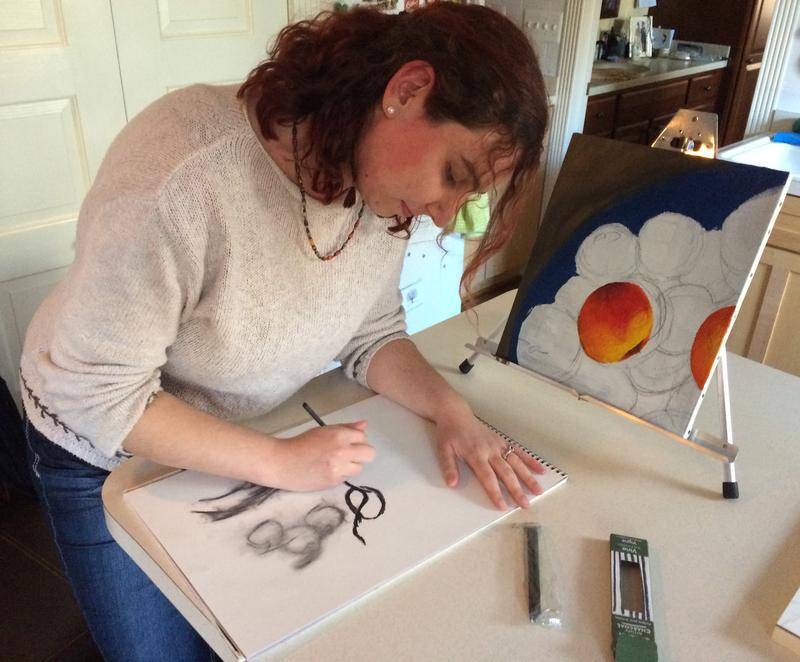 What's the creative project you've been meaning to get done? When we put out the call in December, we heard from hundreds of people eager to throw their hats in the ring and commit publicly to their artistic plans.
Adrienne Ognibene, from Takoma Park, Maryland, resolved to complete six paintings and twelve large-scale charcoal drawings by year's end. "I went to the back-to-school sale at the old art store I went to when I was in college and I bought a ton of canvases," she reports. Her makeshift studio is her kitchen. "You have to move everything away, clean it all up and make it all go away, so you can cook dinner and don't wind up eating your acrylic paint."
She hasn't made as much progress as she might like, but she's hoping Daylight Savings will work to her advantage: "It's getting warmer and I can go outside. I have more light when I get home from work."
→ Follow other listeners working on their creative New Year's Resolutions
Work in progress: Adrienne Ognibene's
Basket of Peaches
Music Playlist
Auld Lang Syne

Artist: Harry Connick, Jr

Album: What A Night! A Christmas Album

Label: Columbia

Mahalo

Artist: Ratatat

Album: LP4

Label: XL

Paint Me

Artist: Ohio Players

Album: Pleasure

Label: Westbound Records Inc.