SchoolBook
Teachers, Principals Looking For Big Changes in School Days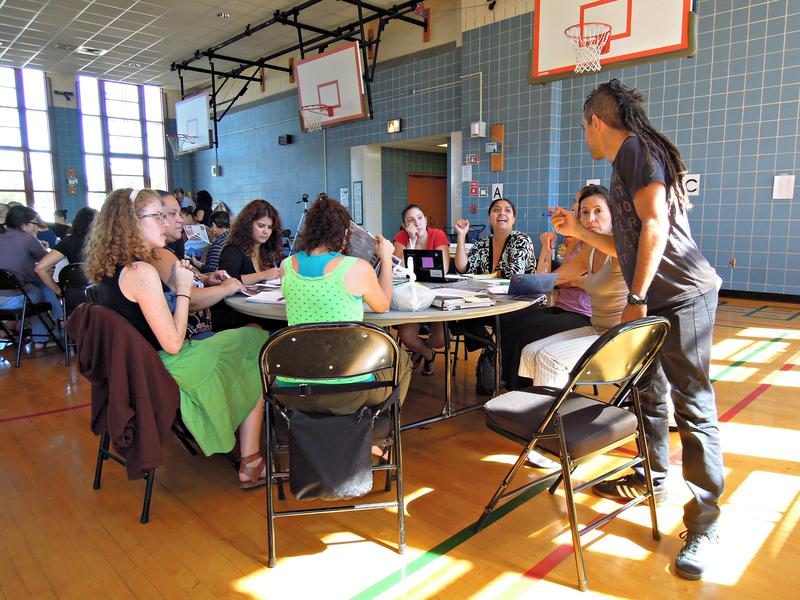 Mayor Bill de Blasio called the new labor contract deal with the teachers union a "thorough reset" of the New York City public school system and many teachers and principals said on Friday they agreed, and they hoped it would lead to big changes.
The most dramatic reform for many of the educators interviewed by WNYC was increasing professional development time for teachers. It came at the expense of an extra period dedicated to supporting students with tutoring but John Curry, principal of the Community Action School, said helping teachers master new Common Core standards and curriculum materials would, in turn, help students more.
"One of the things that's been missing is enough time to do collaborative curriculum development and professional development, and this new system will have a much stronger impact on student achievement than those smaller pieces of more intense intervention," he said.
Curry also said he was intrigued by the Chancellor's plan to let up to 200 schools try a longer school day or a change in work rules, if their teachers agree.
On WNYC's Brian Lehrer Show, the mayor acknowledged that many charter schools already do these things. But he said charters didn't always share successful practices with the rest of the public school system.
"We want to show that innovation can work in the most diverse mix of constituencies in a school," he said, adding that these innovations can then "spread rapidly to other traditional public schools."
The contract also calls for streamlining the teacher evaluation process, from 22 measures of student learning to eight. Principals and teachers alike complained the process was cumbersome.
"The streamlining of the observation categories is great," said Nicole Dixon, a teacher at East Side Community School. "Juggling 22 criteria is crazy and clearly unnecessary."
Another change to the day would involve more parent-teacher communication, doubling the number of conferences a year, and mandating one period every Tuesday for reaching out to families either in person or through phone or email conversations.
Janet Gil, who teachers sixth grade at P.S./I.S. 189 in Brooklyn, said she's bothered by being told what to do when she already communicates with parents on a regular basis.
"I'm still here," she said on Friday at 4:40 p.m. after meeting with a parent. "Why should we have outsiders, other people establish days to meet with a parent when we have been doing this for years?"
The union's contract approval process begins with an executive board meeting on Monday, a delegate assembly meeting on Wednesday, after which the secret ballots will be mailed to union members. A ballot count will come later this month or in early June.