New Sounds
A Limited 2014 Preview / Some 2013 Missed Gems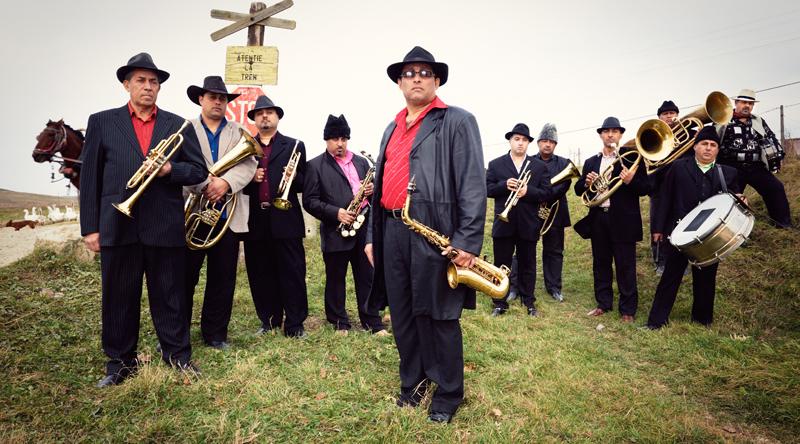 While everyone was compiling their year-end-lists on deadline, or submitting their 2014 previews, we've had the luxury of no one demanding such things from us.  Now, really, the only joy in these sorts of exercises might be taunting John Schaefer with the freer time which comes from not hosting two daily shows (& countless other events), and then finally feeling guilty enough to share the things that the staff stumbled upon while not compiling Listener Poll data. Just to defy low expectations, and to continue to avoid actually BEING on air, here's another in the series of "Rogue" New Sounds Staff posts and it's a long one - in two parts.
I. Here's some stuff that the Staff is really looking forward to and/or is quite excited about in early 2014:
Fanfare Ciocarlia & Adrien Raso - Swing Sagarese from
"The Devil's Tale" (out January 17th 2014 on Asphalt Tango)
Like a cracked out Herb Alpert's Tijuana Brass cavorting with Django Reinhardt, this combination is sure to induce chair-dancing with its "gypsy swing."  Oddly, as already remarked on The Guardian in their review of the record, Fanfare Ciocărlia seems to be held in check, or "splendidly restrained."  These are some of the most talented horn players you will EVER hear, and the record is surely the soundtrack to swinging mayhem all the same.
SEE FANFARE CIOCARLIA at Drom on Tues. 1/14, if that's not sold-out already. 
Tiécoro Sissoko - "Keme Borama" (out Feb. 4th on KSK)

"Whatever you do in this life, there is an importance to it."
A griot and storyteller, Tiécoro passed away in May 2012, before this record was released.  He performed weekly with Toumani Diabaté in Bamako at the Diplomat, and toured France & West Africa.  This is the only document of his solo artistry. 

Sheela Bringi - "The Three-Eyed One"
from the album "Incantations" (out Feb. 25, 2014 on White Swan)

Harmonium, sax, trumpet, and digeridoo?  OK.  Color the staff intrigued.  No soundtrack for yoga here, this is foreground music. The harpist / bansuri flautist / vocalist draws upon Dead Can Dance, M.I.A., and Meredith Monk.  There are also call and response vocals on this tune, which help to frame Bringi's trained Indian classical music and jazz vocal talents.  We predict a winner.  Two more preview tunes, "Buffalo-Demon Slayer" and "Raja Ram," here: Rock Paper Scissors
Mason Bates - Terrycloth Troposphere
from "Stereo Is King" (due out March 25, 2014 on Innova Records)
We like to keep up with composer and DJ Mason Bates (also Chicago Symphony Orchestra Composer-In-Residence), who has an admirable way of living between concert hall and nightclub.  We're looking forward to his whole record of electronica-informed works featuring the GVSU New Music Ensemble, due out in March. We're really digging this small sample with its subtle electronics, layers of harp and melodic strings that veer in and out of the mix, all punctuated by the piano as percussion. 
Sharon Jones & the Dap Kings – Give the People What They Want
Full album due out on Tuesday Jan. 14, 2014.
After singing along with the first single, "Retreat!" for months now, the staff is so encouraged by the news of Sharon kicking cancer's ass and looking forward to her comeback tour.  (Obviously this is not anything that will air on New Sounds, but the staff can't be relegated to weird music all the time.) The whole record is sure to be an energy-filled, captivating, and timeless powerhouse.  Just like her.  Here's the latest single, "Stranger to my Happiness":
II.  Stuff we missed in 2013
Things we missed in 2013 that the Staff is stoked to share with John Schaefer:
Alasdair Roberts & Robin Robertson, "Hirta Songs" (Stone Tape)
Scottish folk singer Alasdair Roberts in collaboration with acclaimed poet Robin Robertson, who provides lyrics he wrote about the isolated and dramatic British isle of St Kilda.  Featuring Robin Williamson (Incredible String Band) on hardanger fiddle and many other talents, these acoustic arrangements are immediate, intense, and breathtakingly lovely.
Hackney Colliery Band – Common Decency (wahwah45s)

Inspiring, funky and heavy metals, -er- brass band music.  East London collective Hackney Colliery Band mixes rock, afro-beat, Balkan beats, with jazz, funk, & groove for a foot-stomping great time.   (Note: This made the Staff finally understand the musical references to colliery bands that Johann Johannson's "The Miner's Hymns" had been lamenting.)
Stara Rzeka - Cień chmury nad ukrytym polem (Instant Classic)
This definitely toes the New Sounds line.  But it is so worth a mention, in that it is such a perplexing Polish one-man band with acoustic melodies, blast beats and atmospherics! Been digging this for several days in a row.  Thanks, The Quietus. 
Lake of Blood - Omnipotens Tyrannus (Cult of Melancholia)
Maybe this one won't be shared with John Schaefer.  The staff's cup of tea is proggy black metals with buried vocals.  Southern California quintet Lake of Blood surely delivers.  Beautiful and complexly layered, much like the Polish guy, Star Azeka, but the main difference is that this would NEVER get played on New Sounds.  The sonic assault of riffs, blast beats and low-throaty rasping such as the opening track, "Blood & Mercy" are skillfully punctuated with drama-filled, yet not overwrought drop-outs.  The well-chosen space leads to greater fist-pumping when the barrage of winding agony returns.
Note: Lake of Blood also did a split with Kentucky's Panopticon, the band who created the NSAPA's (stands for New Sounds All-Purpose Assistant) most-played track from 2012, "Bodies Under the Falls."