New Screening Tool Helps Unauthorized Immigrants Learn About Options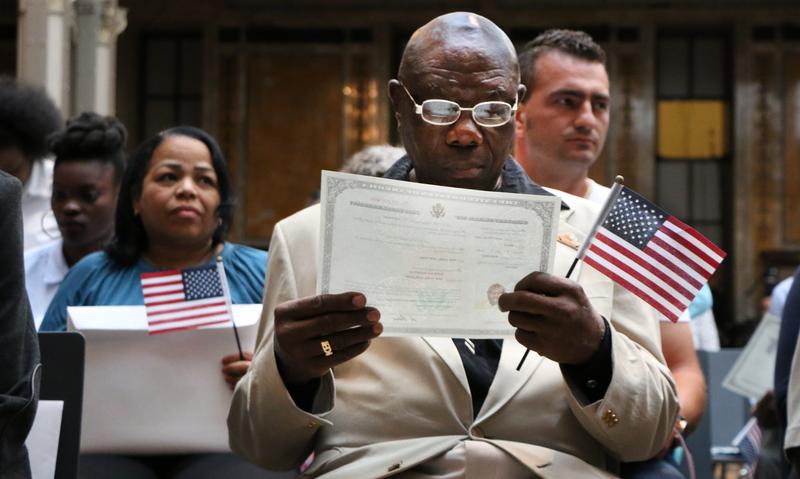 Even though President Trump signed executive orders on Wednesday restricting immigration, it's still possible for some people without proper documentation, or who entered the United States illegally, to obtain legal status. One way they can find out is through a new website, called immi.org. 
Based on a study by the Journal on Migration and Human Security, 1.5 million immigrants without authorization may be eligible for legal status, according to Matthew Burnett, director of the Immigration Advocates Network. The civil legal aid group created the site to help immigrants more easily navigate often complicated information.
"The fact is that there are a lot of options," he said, even for some who entered the country illegally. "That's one piece of misinformation that we want to sort of get folks to give up or think about differently."
Think of immi.org as sort of like TurboTax for immigrants. The site asks a series of biographical questions. Based on the user's answers they are given more refined questions aimed at letting them know whether they are eligible for any forms of relief from deportation, such as special visas for juveniles and victims of crime, or by getting a petition from a family member who is a U.S. citizen.
Immi.org is in English and Spanish, and completely anonymous. "We don't ask any personally identifiable information like name," Burnett explained.
It also steers users to different free and low-cost legal groups, he said, because immigration law is extremely complex.
Burnett encouraged people from various groups within his network to try the tool during a soft launch over the last few months. One is Tania Mattos, education and outreach coordinator for UnLocal, which helps immigrants in New York City. She was born in Bolivia and came to the United States with her family. She said she tried out the website to see what it would tell her.
"It diagnosed me correctly, you could say," she said, referring to her eligibility for DACA (Deferred Action for Childhood Arrivals).
"At the end of the day, it doesn't replace speaking one-on-one with an attorney," she cautioned. "But at least it's getting maybe a first opinion or a second opinion."
Mattos noted that many immigrants have been preyed upon by unscrupulous notarios, or notaries, who are not really lawyers. Free advice from the website could help them avoid that, she said.
But while others support the website, they worry about raising false hopes. There is a perpetual shortage of free and low-cost immigration attorneys in New York City.
"Unless there's increased funding for direct representation, all you'll be able to do is educate people — which in itself is very good goal," said Lorelei Williams, immigration and LGBTQ advocacy director at Staten Island Legal Services.
She also wondered how immigrants who don't know how to read would access the site.
Burnett said he is working with different community groups to spread the word now that the website is ready for a wider release. He also said the site will be updated as necessary to reflect any changes in federal policy for immigrants who are already here.
The site was in the works for more than a year, with funding from the Open Society Institute and the MacArthur Foundation, and Burnett plans to add more languages. But Trump's election, he said, "did expedite" its release.