SchoolBook
New Schools And Co-Locations, the Last Under Bloomberg, Up for Debate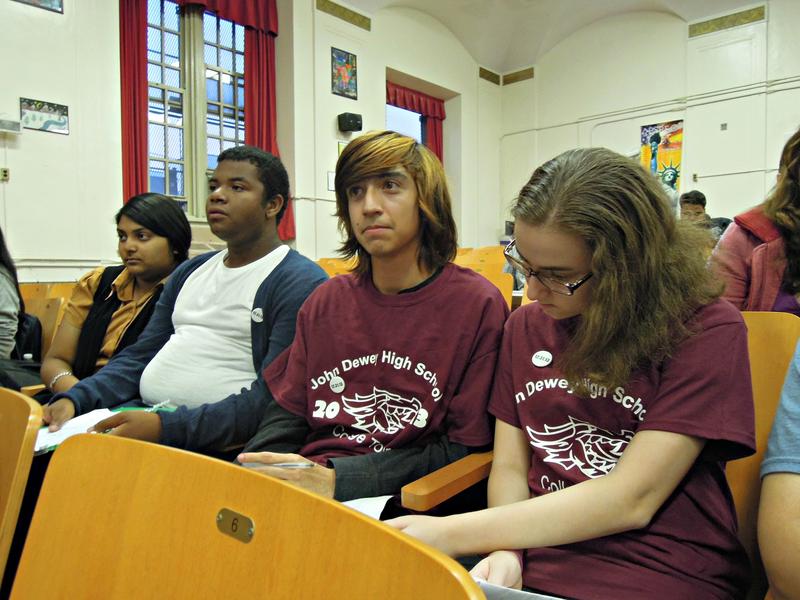 The latest round of proposals to open new schools and fit others into existing school buildings will come up for votes next month at the Panel for Educational Policy, a parting shot by Mayor Michael Bloomberg to try to influence the school landscape long after he leaves office.
The panel, which has a majority of members appointed by the mayor, will consider more than 40 proposals for co-locating schools at two meetings next month. More than 30 of these plans are for new schools.
Before the scheduled votes, school districts around the city are holding community meetings and public hearings to debate the proposals. 
On Wednesday night, the Community Education Council for District 21 in South Brooklyn held one such meeting at P.S. 226 Alfred De B. Mason to consider three proposals: co-locating two charter schools -- Coney Island Prep and a new Success Academy -- and opening a new district high school within the John Dewey High School building.
Opponents to the co-locations all expressed familiar concern that sharing space can take away from a school's identity and culture, or prevent school programs from flourishing.
"We have a legacy here, we have a history here," said David Personette, a social studies teacher at Dewey. "And every little time you chip something away, you're taking away from what should be Dewey and you're taking it away from the kids that go there."
Plus, Personette argued, the Department of Education is wrongly characterizing John Dewey's current building utilization at 68 percent.
The D.O.E. did indeed project Dewey's enrollment to be just over 1,600 students for this school year, but the school has more than 1,900 students enrolled, according to school administrators. The building can hold more than 2,400 students, according to the D.O.E.
The higher-than-projected enrollment, said school staff, came after Dewey was labeled as a low-performing school and slated for "turnaround" two years ago and after being damaged last school year by storm Sandy. Without these setbacks, they said, the school would be close to fully utilized, particularly after it moved from a "C" to a "B" on its school progress report last year.
Also, the school was left off the high school directory for students wishing to enroll for this year, said Kathleen Elvin, the school principal.
"Families were calling our school, 'We can't apply. The guidance counselors say you're closed. There's no numbers to put on the application form.' Now really, is that fair?" she said at Wednesday's meeting.
All this planning for the future could be undone by the new mayor who may decide to halt proposed co-locations that would not even take effect until next school year or later. He also could stunt charter school growth in New York City by choosing not to grant them space in public school buildings.
Bill de Blasio, the Democratic candidate, has called for a moratorium on co-locations at least until there is a new process in place to review them. He has used strong language on the campaign trail suggesting that the current process is unfair to parents and CEC members, who should have more say in co-locations and opening new schools, particularly charter schools.
There are now more than 180 charter schools in New York City, the vast majority opened under Bloomberg.
But James Merriman, chief executive officer of the New York City Charter School Center, is unruffled by the prospect of a new mayor who is not a big fan of charters.
"I don't think that there will be an effort to undo the system of charter schools that we have that are one tool that we have to improve student achievement," he said, adding that the demand for charter schools is high. There are more than 50,000 families on waiting lists.
"I think that when the mayor actually comes into power and is responsible for making sure that our school system works, he will make a determination, I'm convinced, that charters are a helpful partner in moving the entire system forward," said Merriman.
In the meantime, however, school communities will take up that debate for themselves one more time with the Bloomberg administration.
To see the full list of proposals coming up for votes on  Oct. 15 and Oct. 30, click here.