SchoolBook
Upper West Side School Gets New Building, But Who Will Attend?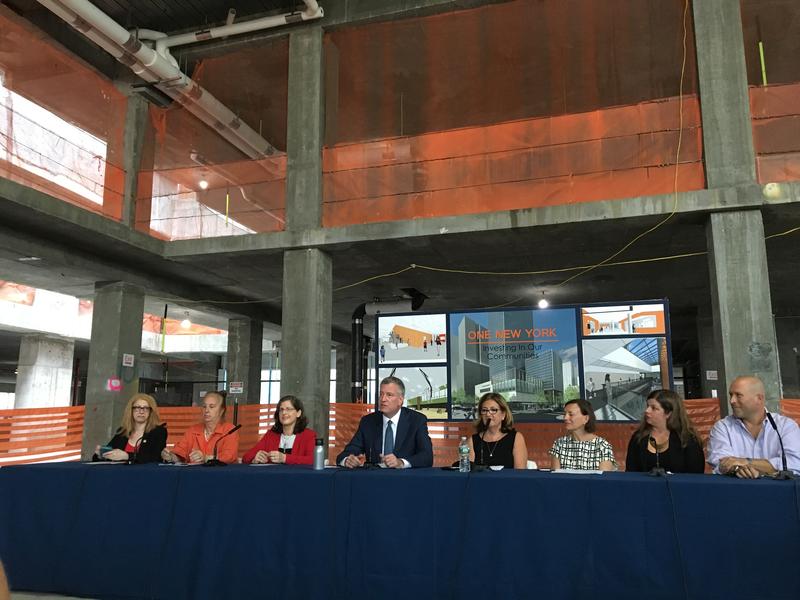 Mayor Bill de Blasio announced Wednesday that a new Upper West Side school building will open in the fall of 2017, a year earlier than expected. The Department of Education is planning to relocate P.S. 191 to the new space on West End Avenue and expand its enrollment.
But the mayor avoided taking sides in a controversial rezoning debate that could change the composition of students attending P.S. 191. The school draws a lot of students from the Amsterdam Houses public housing complex behind Lincoln Center. Two different proposals are being considered by the local community education council that would rezone P.S. 191 plus two other schools with wealthier populations, so that children across the economic scale are distributed more evenly across the three schools. Both proposals would also alleviate overcrowding in parts of the district.
Critics say the administration should play a bigger role in integrating the public schools, but de Blasio described rezoning plans as just one tool. "They have to be done with communities and they have to be done with many imperatives in mind," he said.
"Here's a process where we get a chance, because we have new space, to really factor diversity into the equation effectively," he said. "It's a community that cares deeply about the issue and is going to work productively on it."
But the community has been sharply divided over how to get there. One rezoning proposal involves moving P.S. 452, now on West 77th St., into P.S. 191's current building on West 61st. The school's principal supports the move because it would give the crowded school more space. But many parents have said the new location is too far away. They prefer a second scenario, which would open a completely new school on the site of P.S. 191.
City Councilwoman Helen Rosenthal, who has declined to take a position, said she looks forward to a vigorous discussion with public hearings starting in September.
"Rezoning discussions are not easy and this announcement allows the community to continue the conversation with eyes wide-open and all the area's resources fully at their disposal," she said.
The new building for P.S. 191 will feature a science suite and two rooftop playgrounds. The city's Panel for Educational Policy is expected to formally approve the school's relocation later this year.