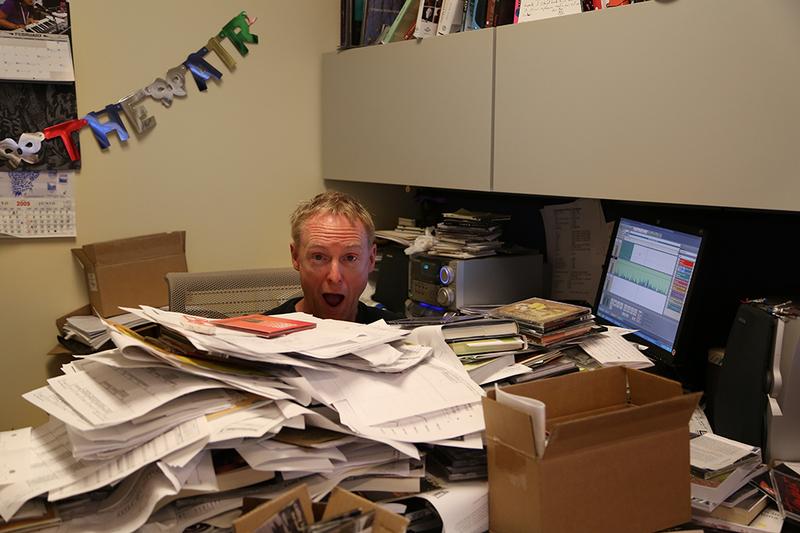 John Schaefer carefully sorts through the stacks and boatloads of LPs, cassettes, flexidiscs, CDs, as well as the downloads and streams which have come across his desk over the past month to present some of the finest new releases. He'll pick the lentils from the ashes to present the cream of this crop. 
Hear Ghanian traditional music via a London lens by Vula Viel, a percussion-heavy band which features two drummers, in addition to the starring instrument, the Gyil (the Dagaare xylophone made of sacred lliga wood), played by Bex Burch, the group's founder.  Also, listen to music from Pekko Kappi, who slays the ancient Finnish variation of a bowed lyre, the jouhikko, in music where macabre murder ballads meet the loping groove of Tuareg blues.
There's also Qawwali excellence, sometimes with brass, from the brilliant new record, Junun (it means "mania," or "the madness of love.") The music comes from composer and musician Shye Ben Tzur who splits time between Israel and India. "SBZ," as Shye Ben Tzur is sometimes known, also enlisted the guitarist/composer Jonny Greenwood (Radiohead), and the qawwali party Rajastan Express, who are devotional Sufi qawwal musicians who even sing in Hebrew.
Plus, hear music from British/Norwegian soundscape-jazzish duo, Food, which is Iain Ballamy and Thomas Strønen, featuring Austrian guitarist and electronics player Christian Fennesz. Rounding out the show is music by Karavan Sarai, which is composer/multi-instrumentalist Narayan Sijan, who plays lutes of the near east, and pulls from the various traditions of India, Persia, Turkey, and Arabia, coupled with the electronics from producer/artist Carmen Rizzo (Niyaz, Huun Huur Tu, Coldplay.)  That, and more. 
PROGRAM #3792 New Releases October 2015 (First Aired 10-30-2015)
ARTIST(S)

RECORDING

CUT(S)

SOURCE

Shye Ben Tzur, Jonny Greenwood, & Rajasthan Express

Junun

Modeh, excerpt [1:00]

Nonesuch 552641
Due out November 20, 2015
nonesuch.com

Vula Viel

Good is Good

Gandayina [7:24]

Pekko Kappi & K:H:H:L

Arctic Paradise 2016

Pirun ja papin polska [4:35]

Jacob Szekely Trio

JSIII

Spoon Man (Soundgarden) [4:41]

Sanjay Chitale, Sandeep Chowta, Andy Laverne

American Pilgrimage

Saavria [7:40]

Universal Music Classics
Due out November 13, 2015
Available for pre-order Amazon.com & iTunes

Shye Ben Tzur, Jonny Greenwood, & Rajasthan Express

Junun

Modeh [5:37]

See above.

Ghazalaw

Ghazalaw

Hen Ferchetan (Jugnu Ke Sitara Tha) [5:20]

Marvels of The Universe
ghazalaw.com

Food

This Is Not A Miracle

First Sorrow [3:06]

ECM2417
ecmrecords.com
Due out Nov. 6, 2015

Karavan Sarai

Woven Landscapes

The Journey [5:50]