SchoolBook
New Regents Chancellor Says She Wouldn't Want Own Kids to Take State Tests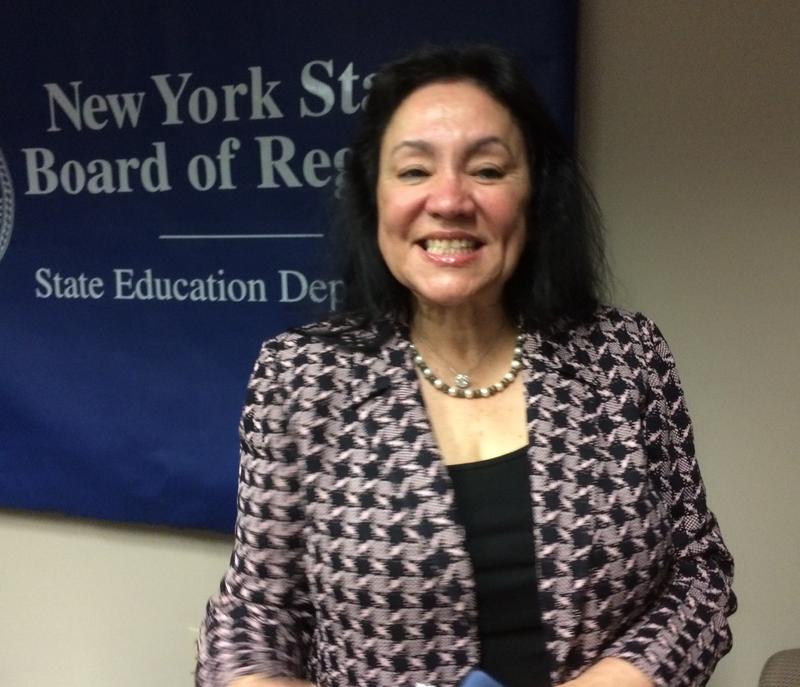 The state's Board of Regents is clearly headed in a new direction. On Monday, the 17-member body elected Betty Rosa as Chancellor to replace Merryl Tisch, who spearheaded the movement for Common Core standards and for using student test scores in teacher evaluations.
Rosa, who's served on the board since 2008, was among a handful of regents who were critical of the pace of these reforms. She was even endorsed by parents who are opting out of the state tests again this year. She told the Wall Street Journal that if she had children in the public schools she would opt-out, too, "because I don't think these are the right tests." Rosa is 64 and her children are now grown.
When pressed about this statement by reporters, Rosa stated that she was speaking as a private person and not as someone who sets education policy. She said she sees both sides. "I really feel that there are many parents that have great arguments for why their kid should take a test. And you know what? We need to respect that."
On the other hand, she continued, "I also respect the parents who make a choice of opting out, these are choices, the law gives them these choices."
Rosa said she didn't think the current tests did a good job of measuring progress for English Language Learners and students with special needs. "I want us to get to a place where we come to the table and examine the current tests and move forward in a way that parents have a full sense of trust," she said.
Rosa stopped short of saying the tests to be given next month are good enough to have earned that trust. State Education Commissioner MaryEllen Elia has been encouraging families to take the tests, arguing that they will be a little shorter this year and that students will have no time limits.
"I think it's my role and the regents' role is to get out there and say these are the changes that have been made, we've got more to do but we listened," Elia told reporters, adding that the tests are also useful for teachers to look for achievement gaps between different groups of pupils.
The state could also lose federal funds if fewer than 95 percent of students take the test for a second year in a row. Last year, 20 percent opted out. Commissioner Elia has said she doesn't want to punish any districts.
New York City Schools Chancellor Carmen Fariña has also encouraged parents to let their children take the tests, while acknowledging they have a right to opt out.
Rosa's selection was praised by New York Allies for Public Education, which is leading the opt-out movement. Lisa Rudley, an Ossining parent and founding member of the group, called changes to the test "minor" and said they don't provide "any real relief for our children at the classroom level."
Meanwhile, the group High Achievement New York — which is composed of business leaders and educators — called on the opt-out movement to "finally take 'yes' for an answer and stop urging children to refuse to take the tests." It said their campaign would destroy higher standards.
New York was one of the first states to embrace the Common Core standards in 2010 in exchange for federal funds. But even the departing regents chancellor, Merryl Tisch, acknowledged the implementation was rushed. The percentage of students deemed proficient on the new Common Core-aligned tests plummeted when they were first given in 2012, leading to a backlash. The opt out numbers swelled to 20 percent last year, after Gov. Mario Cuomo got the legislature to adopt a law that gave more weight to student test scores in teacher evaluations. Cuomo eventually backed off, and his own task force recommended a moratorium on tying test scores to teacher ratings until 2019. The regents adopted this recommendation.
As the state examines the Common Core standards, those who know Rosa best believe she is in a good position to bring people together from different sides in the education debate. She spent her early childhood in Puerto Rico before moving to the Bronx, and went on to earn several degrees, including a doctorate from Harvard. She is said to be passionate about improving education for all children, especially those with special needs and students still learning English.
Daniel Garcia, former principal of P.S. 130 in the South Bronx, said Rosa got principals from the wealthier northern part of District 8 to work alongside those from the southern part when she was district superintendent.
"She came in and she changed that dynamic for the better," he said, predicting she would have similar success in bridging current divides over education policy.
The regents also elected their colleague Andrew Brown as Vice Chancellor. Like Rosa, his three-year term starts April 1.