New Sounds
#3649: The New Music/Rock Music Connection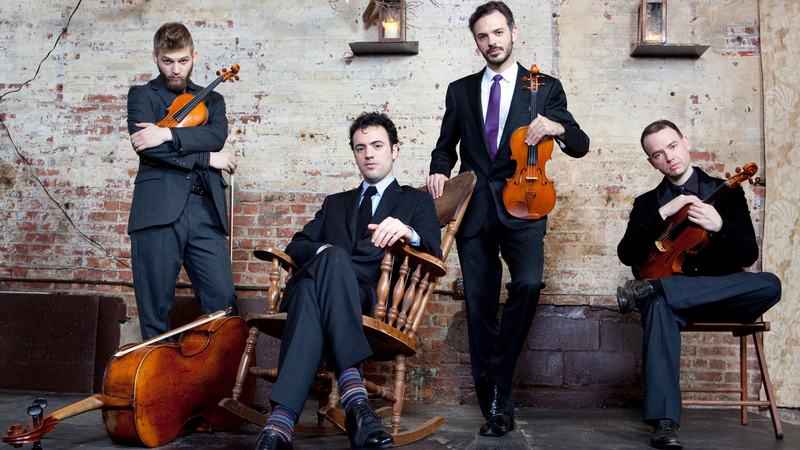 This New Sounds program highlights the connection between new music and rock music. Listen to a five-movement work by Steve Reich, "Radio Rewrite" based on music by Radiohead, performed and co-commissioned by Alarm Will Sound. The specific Radiohead songs are "Jigsaw Falling into Place" and "Everything in Its Right Place."
Reich spoke about the piece and its connection to Radiohead's Jonny Greenwood on WNYC's Soundcheck last year with host, John Schaefer:
Also, listen to works by Clogs, music from the string quartet Brooklyn Rider written by Padma Newsome of Clogs, and a work written by Brooklyn Rider's violinist Colin Jacobsen, featuring the singular vocalist Shara Worden. Note to those keeping score, together with his cello-playing brother Eric, Colin Jacobsen also co-founded  the flexible New York-based ensemble, The Knights. Plus, listen to music by Caroline Shaw and Kitty Brazelton, who both inhabit a few musical worlds. Shaw was the recipient of the 2013 Pulitzer Prize for Music, and is a violinist and vocalist besides, while Brazelton is a flutist, bandleader, vocalist and composer.
PROGRAM #3649, The New Music/Rock Music Connection (First aired on 10/14/2014)  
ARTIST(S)

RECORDING

CUT(S)

SOURCE

Clogs

Lantern

2:3:5, excerpt [1:00]

Brassland #010
brassland.org
clogsmusic.com

Brooklyn Rider

Almanac

Colin Jacobsen: Exit (Shara Worden, vocals) [4:45]

Mercury Classics / In A Circle Records #002159302
mercuryclassics.com Available at iTunes, Amazon.com, Emusic.com

Clogs

Lantern

2:3:5 [5:14]

Brassland #010
brassland.org
clogsmusic.com

Brooklyn Rider

Almanac

Padma Newsome: Simpson's Gap [4:46]

Mercury Classics / In A Circle Records #002159302
mercuryclassics.com Available at iTunes, Amazon.com, Emusic.com

Alarm Will Sound

Steve Reich: Radio Rewrite

Steve Reich: Radio Rewrite [17:23]

Nonesuch 543123

Caroline Shaw & ACME (American Contemporary Music Ensemble)

New Sounds Live @ Brookfield Place Winter Garden 10/16/13

Caroline Shaw: Ritornello, excerpt [4:47]

This performance not commercially available.  Information and audio at: carolineshaw.com

Clogs

Lantern

Canon [4:15]

Brassland #010
brassland.org
clogsmusic.com

Kitty Brazelton / The Time Remaining Band

Ecclesiastes : A Modern Oratorio

Heaven [5:05]

Innova 727
innova.mu